Over the next few decades a feminist directed holocaust will take place against men under the banner of the war against sex offenders.  Millions of men will be its victims, and what's more, this holocaust will be truly global.
Yesterday, in the UK, already overcrowded jails were told to be ready to take even more prisoners :
The government has ordered dozens of already full jails to take more inmates because the jail population is growing faster than expected, it has emerged.

Forty prisons in England and Wales have been told to raise their "operational capacity" in the next two months, according to documents seen by the BBC.

All but six of these are running at full capacity or are overcrowded.

Justice Secretary Chris Grayling said he was taking "sensible steps to make sure we can accommodate everyone".
The primary reason for the explosion in the prison population in the UK is the growth in the numbers of men being jailed under feminist sex offender laws.  The prison population rose rapidly after the 2003 Sexual Offences Bill, which contained numerous new laws targetting male sexuality, such as raising the minimum age for pornography from 16 to 18, and more than that, making it an imprisonable offence even to look at a picture of a topless 17 year old girl.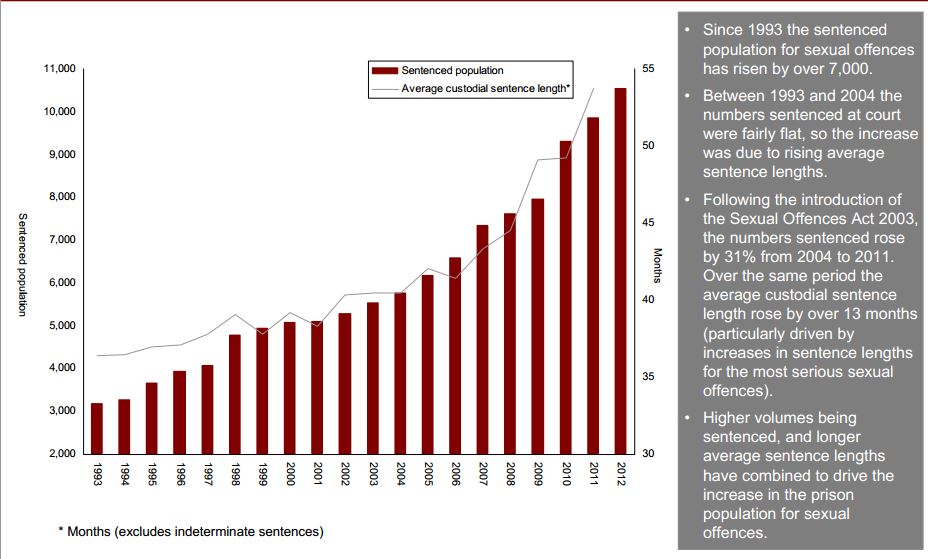 The Future
Last year, in the wake of the Jimmy Savile hysteria, the UK government announced plans to make it easier to convict men facing rape or child abuse allegations.  Young girls will be forced to testify against their older lovers, no matter how unwilling they are to do so and consequently how traumatizing the experience will be.  Recently, the police arrested a 15 year old girl and kept her in a police cell for 20 hours until she agreed to testify against her 'abuser'.  All pretence at 'protecting victims' has gone, and now feminists can openly commit a holocaust against men simply in order to regulate the free sexual market in favour of their unwanted and unloved aging vaginas.
Even more significantly, the EU last year passed another major directive on 'child abuse' (the third in 10 years).  The consequence will be a massive explosion in the numbers of men jailed for sex offences throughout Europe.  Amongst the measures included were a scrapping of the statute of limitations for sex offences and new laws against 'grooming' (both offline and online). A single image of a topless 17 year old girl (or a 30 year old woman who could pass as a 17 year old girl, or a hentai cartoon image of a '17 year old girl') passing through your browser will bring you a MINIMUM two years in prison.  On top of that, the whole of Europe from Iceland to the Ukraine signed up to a treaty against sexual harassment which could see men arrested for simply looking at a woman in the street in an 'unwanted sexual manner'.  Within a decade or two, there will be as many or more sex offenders in European jails as there are in the USA (where a million men are already on the register), and sex offenders will likely make up the vast majority of the prison population, as violent crime continues to drop, and drug posession laws are relaxed in order to make prison space available for the hundreds of thousands of men who will be jailed under new feminist 'sex crimes'.
How it will look
The following photo is taken from a typical prison cell in Brazil.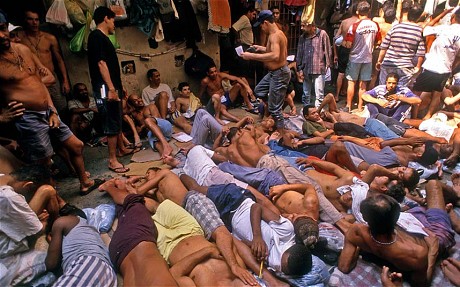 Currently, in Brazil, most of these criminals wil be violent thugs and gangsters.  In Europe, soon this picture will represent a sea of sex offenders sharing an overcrowded cell.  Conditions will get progressively worse (pun intended).  Politicians eager to chase the female floating brood mare vote that ensures their re-election, will make life even tougher in prisons which will begin to resemble NAZI death camps.  In fact, France has already begun building camps designed to house only sex offenders, with the intention that once in there, the men are to die in there.  This is particularly chilling given the recent electoral success of Marine Le Pen, who has already vowed to 'liquidate the paedophiles'.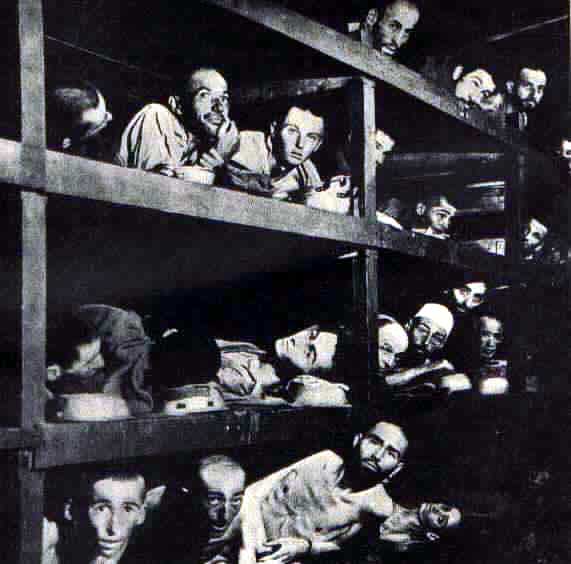 But perhaps most ironically, given that the EU is now the primary vehicle for what is happening, and the EU is increasingly dominated by Germany, the coming sexual genocide will represent the third holocaust that that nation will have been primarily responsible for in little more than a century (the first was against an African tribe).
This website is one of the only voices in existence against the coming holocaust.  AVoiceforMen, which is the leading so-called 'men's rights site', actively promotes the holocaust through its validation of the feminist abuse industry, and frequent calls for it to be extended to include boys amongst its manufactured victims.