The vast majority of victims of state sponsored torture are men. This is an obvious truth, arising not simply from the disposability of the male, but the fact that the majority of civilians who take up arms in any form against corrupt and totalitarian regimes will be men. This evident truth was highlighted again yesterday by the release of photographs of alleged torture victims of the Assad regime in Syria.
But despite men being the overwhelming victims of state torture, the leading human rights organizations in the world, such as Amnesty International, and even specifically anti-torture lobby groups such as 'Redress', are mere fronts for radical feminist propaganda. These organizations take huge amounts of donations from the public, who presumably believe that their generosity will go entirely towards stopping horrific cases of torture in the Third World, when actually these 'human rights' groups are spending the money on lavish conferences spreading the message that even torture is a gender issue that discriminates against women.
For example, 'Redress' is a registered UK charity that ostensibly seeks to secure reparations for victims of torture. It spends over £1 millions worth of donations each year, apparently to secure this aim. However, in October 2011 it teamed up with Amnesty International to organize a conference looking at the 'gender dimension' of torture. And you guessed it – this 'gender dimension' involves only women.
http://www.redress.org/downloads/publications/GenderandTortureConferenceReport-191011.pdf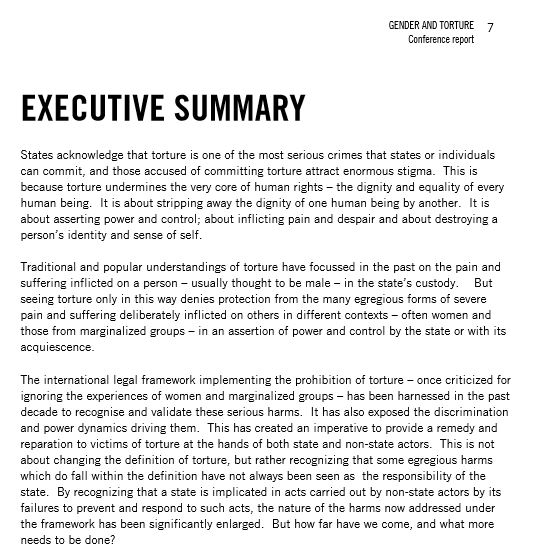 The conference report spends a lot of time focusing on rape as a state sponsored method of torture, but makes clear that the definition of rape used is not going to be the 'traditional one' but as 'an abuse of power, rather than a failure of consent or agreement'.
Other definitions of state sponsored torture that the world's leading anti-torture human rights groups appeared to agree upon during the conference were the criminalization of abortion, as well as governments not taking domestic violence seriously enough.
And this is the 'liberal human rights' club that the 'men's human rights movement' is so eager to become part of?
Victims of real Syrian torture :