Archive for the 'men's rights' tag
Angry Harry responds to a lecture by Dr Lewis Wolpert based on his latest book,
'Why Can't a Woman Be More Like a Man'
http://angryharry.com/The-Physical-And-Psychological-Differences-Between-Men-And-Women.htm
In a recent piece of mine – entitled Who Is More Empathic – Men Or Women? – I mentioned that I was very happy to see that scientists concerned with Biology and Psychology were, finally, managing to stand up to the empty-headed nonsense that has been foisted on to the western world by ideologically driven 'scientists' for the past four decades; 'scientists' who kept denying that genes had very much to do with various psychological traits, when the evidence has always strongly pointed to the very opposite.

These people were, and are, not 'scientists', but deceitful politically-corrected ideologues attempting to impose their left-wing agendas on to the science community and on to the world at large.

They still dominate most of academia.

How pleased I was, therefore, to receive an email pointing out that Dr Lewis Wolpert – a well-known UK biologist – had recently given a public lecture on the well-documented effects of genes and biology on both human brains and behaviours.

Unfortunately, however, the lecture turned out to consist of little more than wild speculation, faulty logic, gender politics and a constant stream of venomous nonsense specifically designed to stir up hatred towards men…
We certainly hope so :
http://angryharry.com/Is-Harry-Back.htm
Where have you been?

What are you doing?

Are you 'back'?

LOL!

These are some of the questions that kept recurring in the emails that were sent to me following my recent posting of my most excellent masterpiece Looking Up Women's Skirts – which I wrote because I was really aggravated about a Japanese film that I saw only part of; a couple of months ago.

Well, let me summarise the situation.

I have not written much for Angry Harry for over a year now. There are many reasons for this.

Too much other work to do. Burn out. Boredom. And a desire to spend my time focusing on other matters…
Feminists force brave soldiers, wiling to die for their country, to wear high heels in order to prove that they are 'man enough' to understand the suffering and sacrifice of privileged princesses women :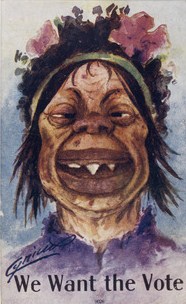 I've been researching old Edwardian anti-suffragette postcards and posters, and it's revealing how many of them poke fun at the remarkable ugliness of the early feminists.
The Suffragettes were responding to the rapidly diminishing sexual value of plain and aging women in an urbanised industrial society adopting increasingly secular values.  The vote was often explicitly stated as a means to the end of legislating sexual morality, and the suffragette movement itself, and therefore feminism, was born out of the Victorian Social Purity Movements – themselves responding primarily to the increase in prostitution and the numbers of available unmarried teenage girls.  The continued deflation of female sexual market value is still the root cause driving each new wave of feminism.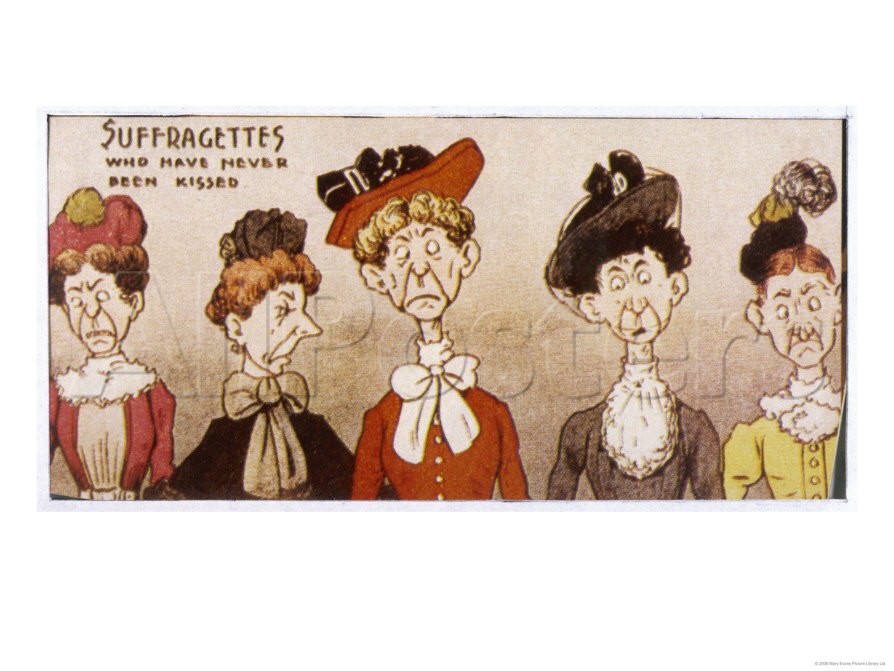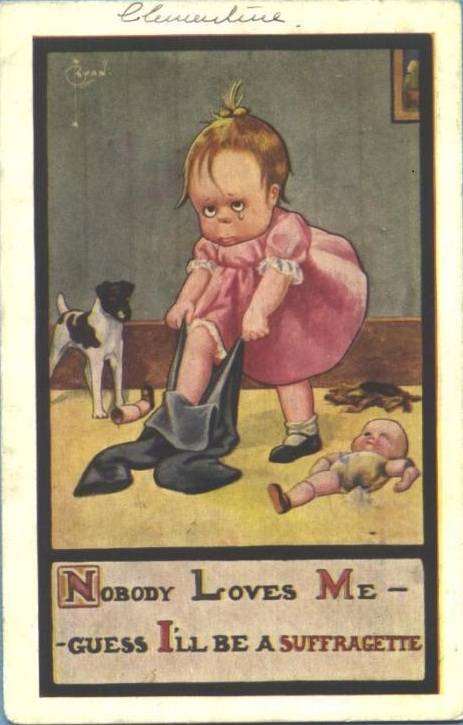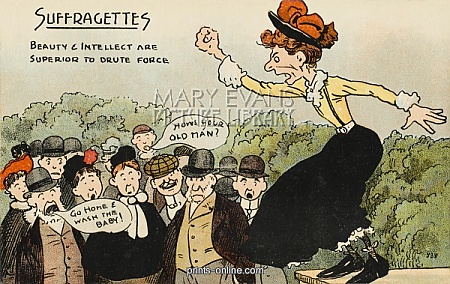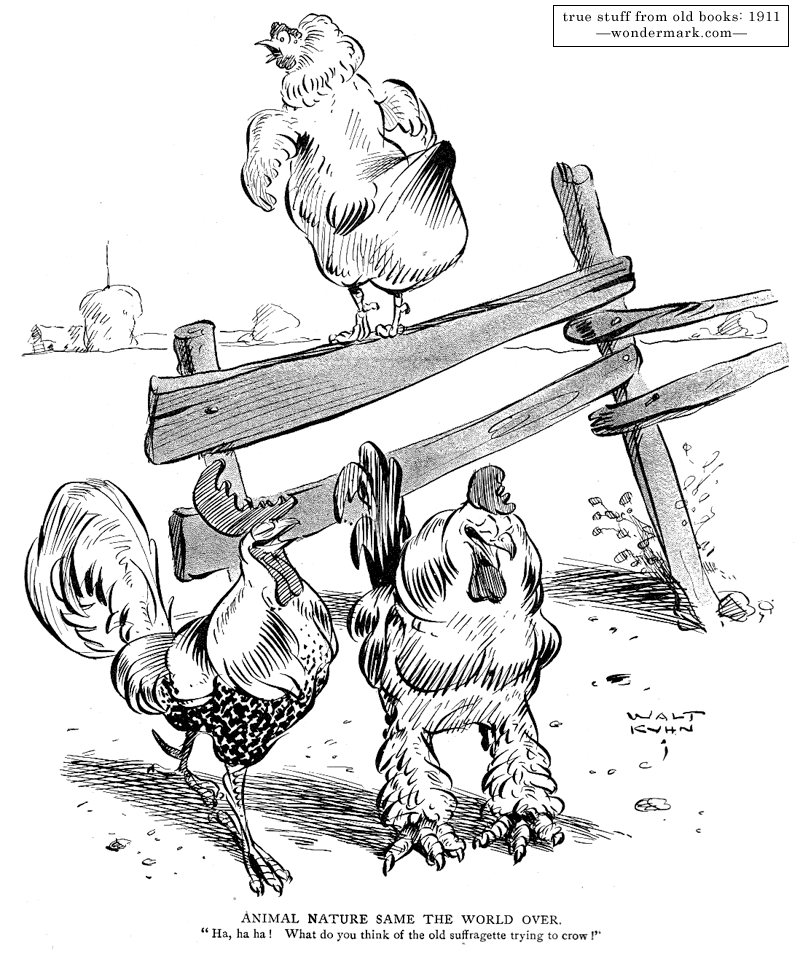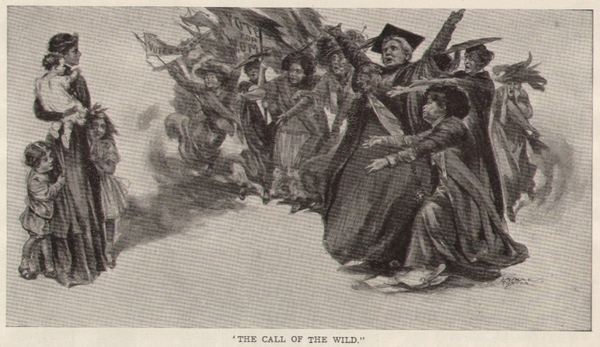 Men's Rights campaigners and activists will gather in Brighton & Hove in November on the eve of the Second National Conference for Men and Boys.

The Men's Rights Discussion and Networking Event will bring together men and women who are concerned with issues such as:

Equal rights for dads
Support for male victims of domestic violence
Equal pension rights for men
Tackling misandry and sexism against men
Tackling negative stereotypes of men
Protecting men against false allegations
Improving boys education
Tackling fatherlessness

The  evening will be opportunity to hear from some of the leading voices and organisations in the Men's Rights field in the UK and connect with other like-minded people. The theme of the event is "Putting Men's Issues On The Political Agenda".
http://brightonmanplan.wordpress.com/2012/09/12/conference-fringe-event-mens-rights-event/
Some great news from Norway – our good friend Eivind Berge has been released from prison.
It appears that the Norwegian Supreme Court has ruled that the foolish threats that Eivind had published on his blog were not made in a 'public place'. Eivind was apparently released yesterday (Thursday).
Although this site and its readers make perfectly clear that we disassociate ourselves completely from the threats of violence that Eivind made, it is wonderful news for the men's rights community that he has been released.
For most bloggers, their published writings are akin to a private diary that has been shared amongst friends. Eivind's blog was not linked to by many others in the men's rights movement (not a reflection on the highly articulate and courageous writings of Eivind, but rather the conservative American family values demographic of the movement). Although I have never had any contact online or offline with Eivind, I see him as a friend and an anti-feminst hero for being one of the few men's rights activists to stand up to the never ending torrent of sex laws that are being made by feminists, with barely any public discussion or debate and backed only by 'scientific' studies that have been repeatedly shown to be either wrong, or even downright fraudulent'. Oppressive sex laws which clearly serve both the sexual and financial interests of the feminists themselves and their female supporters, and which amount to the rape of male sexuality,  and which each probably violate several fundamental citizens rights according to the EU charter .
I denounce Eivind's unfortunate overblown rhetoric on violence, which potentially could have caused so much damage to the only political movement on the horizon that has the potential to limit the crimes against humantiy being comitted by the feminist state.
Eivind Berge has been foolish, but he is no doubt a hero as well, and his courage and intelligence is much better served through being the peaceful men's rights activist that he always has been, and always will be.
http://www.vg.no/nyheter/innenriks/artikkel.php?artid=10059364
The anti-feminist blogger Eivind Berge was released Thursday afternoon, after Gulating Court of Appeal held that blog's speech on the internet is not criminal.

- The threats were meant seriously, but I've thought through it, and I stand not for the extreme forms of action now, says 34-year-old to NRK after release.

Ends to incite violence

Berge says that his stay in prison has been stressful, but interesting, and that he has realized that he did not want to be criminal.

- Sitting in the prison itself has not had any effect on my opinions, but I will not back there, says Berge.

At the same time he says that at one time was willing to carry out threats against the police.

- But police brutality is not something I'm going to continue to encourage, says blogger.

Defender Henry Birkeland says 34-year-old wants to visit his girlfriend and work to bring out their assets seized by the police after release.

Statements are not criminal

Prosecutors believe Berges statements about the police killing of his own blog was far above the limit of freedom of expression and could be considered a solicitation to police killings.

But Gulating Court of Appeal gave Berge pursuant to Thursday, and expressions of opinion on a blog can not be considered public.
Currently reading 'The Second Sexism', the important new men's rights book that uses philosophical analysis to argue that males are experiencing disadvantages in society that are the result of sexism.  I'll write a review sometime soon, but the couple of chapters I've read thus far have left me impressed.  Here, the author David Benatar is discussing the discriminatory pressure on males to enlist and fight in war :
One particularly graphic example of this is the campaign, during the First World War, of British women distributing white feathers – a symbol of cowardice – to young men who were not in uniform.  These were distributed even to adolescent boys who were technically too young to register.  One boy, Frederick Broome, who had succeeded in enlisting at age 15, fought in battle, was returned to England in a febrile state and then discharged at the insistence of his father, who produced his birth certificate to convince the authorities.  Then, while walking over a bridge in town, then age 16, young Frederick was accosted by four girls who gave him three white feathers.  He later recalled as follows :

"I felt very humiliated.  I finished the walk over the bridge and there on the other side was the Thirty-seventh London Territorial Association of the Royal Field Artillery.  I walked straight in and re-joined the army."
Note that I have not sought the author's permission to quote the above passage – I assume he will have no objections to me highlighting a small sample of his work on a men's rights advocacy site.
The quoted quote from the boy soldier is taken from (according to the author's notes) 'We Will Not Fight', by Will Ellsworth-Jones.
In the notes section, David Benatar also reveals that the feminist icon Virginia Wooff dismissed, against all the evidence, the claim that white feathers were handed out during World War I in any great numbers.  She apparently attributed the belief to 'male hysteria'.
You can read an interview with David Benatar on the subject of his book here in the Pink Paper.
**UPDATE : I have added a follow-up to this article which deals with the historical relationship between feminism and the white feather campaigns, something which redditors seem to be having a hard time believing :
http://theantifeminist.com/feminism-and-the-white-feather-campaign-during-world-war-1/
Interesting article from TheScotsman reveals that five prominent feminists were on board the Titanic, and all of them survived bar one – William Thomas Stead, the only male feminist amongst them. A noted women's rights campaigner, Stead was most famous for his 'tabloid' style expose of child prostitution in late Victorian London, which was largely responsible for persuading the British parliament to accede to feminist demands, against the wishes of early men's rights campaigners, and raise the age of consent from 13 to 16.
The article seems to be stressing the bravery of the female feminists. One of them 'helped other women and children into the lifeboats'. Another, 'broke her ankle boarding the lifeboat but survived'. Poor dear. William T Stead, meanwhile, exemplified Victorian chivalry with a stiff upper lip.
William T Stead – a British newspaper reporter who paved the way for tabloid journalism – was a social reformer and ardent advocate of women's rights. While editor of the Pall Mall Gazette in 1885, he "bought" a 13-year-old girl for £5 in an attempt to expose the scale of child prostitution. Although he was jailed for unlawfully kidnapping a minor, the publicity the case generated led to the passing of the Criminal Law Amendment Act, which raised he age of consent from 13 to 16. A friend of suffragette Millicent Garrett Fawcett, Stead was proud of being the first editor to employ women on the same wages as men. After all the lifeboats on the Titanic had been filled, Stead, who had been travelling to a peace conference, is said to have gone to the First Class smoking room where he was last seen sitting in a leather chair reading a book.