Archive for the 'men who should never be near women' tag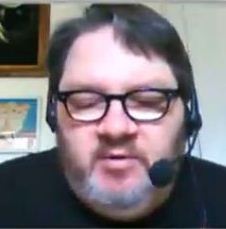 God what a laugh!  I watched the momentous live stream debut of David Futrelle on Al Jazeera last night.  He'd been invited to participate in a debate on 'online misogyny'.  I spent half an hour watching the 'debate' – which so far as I could make out consisted of four feminists bitching about men trying to 'silence' women's voices on the internet, to which the obvious liberal progressive solution was to…well, of course, to silence men's voices on the internet through yet more hate speech legislation.  Four femi-fascists constantly regurgitating the message that women haven't striven for hundreds of years to win their freedom only for them not to be able to lock up any man who dares to criticise them online.  While young girls are beaten or even stoned to death throughout the Arab world for being sexually promiscuous, it's good to see that western feminists have convinced Al Jazeera that combatting the men's rights movement is the number 1 priority for the global sisterhood.
And then the Manboobz was finally allowed to stop twiddling his thumbs and make his contribution from the webcam in his basement.
He looked down at his script and delivered one carefully rehearsed line.  The presenter stared at his visage for several seconds apparently in a combination of bafflement and revulsion.  She didn't appear to know what to make of him.  Perhaps the words 'Manboobz Meetups' were hammering away inside of her skull and she was furiously telling herself 'not going there, not going there, not going there'.
One of the other commentators later unconvincingly remarked that 'David made an excellent point', but it was clear that, like myself and probably everybody else, nobody actually knew what that point was.
Al Jazeera then switched to the news headlines.  I thought I heard the presenter mention something about continuing the discussion, but I wasn't sure if she mean't in their Al Jazeera chatroom or in the studio.  Anyway, after another half an hour of waiting I decided that 5 privileged bitches vagina farting at each other wasn't worth staying up for and I went to bed.
You probably all remember Kyle Payne – before David Futrelle adopted his 'Manboobz' persona, Kyle was perhaps the most famous of all male feminist bloggers.  He became even more famous, or infamous, when he was convicted of photographing the breasts of an unconscious young female student who was under his care as he worked as a student counsellor (presumably he also molested her, although there was no evidence to convict him of this). His role as student counsellor to rape victims was gained largely through the reputation he had carefully built up for himself as an online male feminist.
Incredibly, spending time in prison for sexually abusing a girl in his trust did not prevent Kyle from resuming his pro-feminist blogging and anti-porn activism immediately upon his release.  However, it did appear that his blogging days were finally over when he was caught redhanded a second time – on this occasion, for fapping off to kiddy porn whilst out on probation.
Wrong.
Kyle is blogging again.  Of course he's a changed mangina now – this time his feminism is for real. No I mean for real real.  For example, now he has the added kudos of being able to recount the formerly repressed story of how he was sexually abused as a boy, and how this inevitably turned him into someone who molests passed out college kids (after all, everybody knows that male child abuse victims always go onto become abusers themselves – a bit like werewolves).
Although some might find Kyle's second resumption of post-custodial pro-feminist blogging to be somewhat offensive, he has at least been forced into publicly admitting that his past feminism was merely a ruse.  In fact, he has performed an important public service by explaining exactly how sex predators and paedophiles exploit the persona of male feminist simply in order to get themselves into situations where they can sexually abuse emotionally vulnerable young females.  I believe this is essential to understand if future Kyle Paynes, and other male 'feminists', are to be prevented from destroying yet more young lives :
My work against sexual violence and my reputation as a pro-feminist "good guy" accomplished two interrelated goals: first, I was able to exploit the courage I witnessed in other survivors and substitute it as my own (rather than dealing with my own experiences of abuse), and second, I distracted myself from the shame of fantasizing about women as sexual objects, and in the case of my victim, acting out that fantasy. It's no coincidence that I traveled to two feminist anti-pornography events (in Boston and Austin), established an online presence as a pro-feminist anti-pornography blogger, and became an avid fan of women's athletics in the nineteen months between committing my offense and being convicted in court. My involvement with feminism was not a total charade, but a large part of it was self-serving and exploitative of the trust I gained from others. I had a very specific idea of how I wanted my story to be told, and I sought to control the narrative.

Of course, the real question is, how could anyone expect that story to make sense? A man who takes advantage of a woman sexually, and who sexually objectifies women and girls through internet pornography, who also cares a whole lot about feminism? That's a hypocrite. A liar. And a ticking time bomb. I wish I'd had the courage to call out my own bullshit, address this extreme contradiction in my values, and demonstrate some sort of integrity.
http://kylepayne.wordpress.com/2012/04/12/getting-and-staying-real/
Let's hope that other male feminists can find the courage within themselves that Kyle Payne sadly was unable to.
See also :  Are All Male Feminists Sex Predators, Paedophiles, and Rapists?
David Futrelle to Teach College Girls 'How to Have Better Sex'