Are all male feminists sex predators, paedophiles, and rapists?  I'm beginning to think, at the very least, that any self-identified 'male feminist', and certainly those who make a career out of that identity, should be placed on some kind of FBI watch list.
Hugo Schwyzer is the latest mangina to be exposed as someone unable to keep it in his pants – at least when vulnerable pussy is there for a beta male penis to take advantage of.  Having sex with your students would normally count as a perk of the job in my anti-feminist eyes, but when the man doing the boning has bought into the sexual trade union ideology of 'power structures rendering consent impossible', and such crap, then it does mean your actions are effectively those of a self-confessed rapist.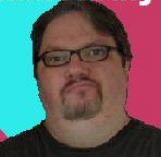 As part of his role as a full-time mangina, Hugo had also been enthusiastically organising young females into taking part in 'slut walks'.  Another 'perk of the job', I guess.  This is eerily reminiscent of another leading male feminist – David Futrelle –  and his use of blogging as a thinly disguised means to arrange 'meet-ups' with his female readers, some of whom are clearly vulnerable, mentally disturbed, or even children.  This is a guy who has described a grown man's fantasy of sexually assaulting a boy as 'tender and erotic' and who spent much of his early career as a radical statutory rape apologist and child abuse denier.  It also brings to mind infamous blogger Kyle Payne, who used his identity as a prominant male feminist to land a role as a student counsellor – and to subsequently film himself violating one of his passed out teenage charges when he was still unable to get laid.  The fervent anti-porn activist is now back in prison for fapping off to child pornography whilst on probation.
It's long been known suspected in the men's rights community that male feminism is simply an omega male mating strategy for the sexually frustrated.  Add to that the obvious deep-rooted psychological issues that these self-hating, white, middle-class nerds clearly possess, and you have a roll call of tragedies just waiting to play themselves out.
Exile in Gal-Ville : How a Male Feminist Alienated his Supporters