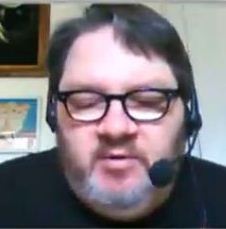 God what a laugh!  I watched the momentous live stream debut of David Futrelle on Al Jazeera last night.  He'd been invited to participate in a debate on 'online misogyny'.  I spent half an hour watching the 'debate' – which so far as I could make out consisted of four feminists bitching about men trying to 'silence' women's voices on the internet, to which the obvious liberal progressive solution was to…well, of course, to silence men's voices on the internet through yet more hate speech legislation.  Four femi-fascists constantly regurgitating the message that women haven't striven for hundreds of years to win their freedom only for them not to be able to lock up any man who dares to criticise them online.  While young girls are beaten or even stoned to death throughout the Arab world for being sexually promiscuous, it's good to see that western feminists have convinced Al Jazeera that combatting the men's rights movement is the number 1 priority for the global sisterhood.
And then the Manboobz was finally allowed to stop twiddling his thumbs and make his contribution from the webcam in his basement.
He looked down at his script and delivered one carefully rehearsed line.  The presenter stared at his visage for several seconds apparently in a combination of bafflement and revulsion.  She didn't appear to know what to make of him.  Perhaps the words 'Manboobz Meetups' were hammering away inside of her skull and she was furiously telling herself 'not going there, not going there, not going there'.
One of the other commentators later unconvincingly remarked that 'David made an excellent point', but it was clear that, like myself and probably everybody else, nobody actually knew what that point was.
Al Jazeera then switched to the news headlines.  I thought I heard the presenter mention something about continuing the discussion, but I wasn't sure if she mean't in their Al Jazeera chatroom or in the studio.  Anyway, after another half an hour of waiting I decided that 5 privileged bitches vagina farting at each other wasn't worth staying up for and I went to bed.