Swedish 'Sex Purchase Law' Feminist 'Beheaded' in Africa
A Swedish UN 'humanitarian worker' – Zaida Catalán – was found beheaded along with her male colleague in darkest Africa last week, presumed murdered by rebel millitants. She was in the war torn Congo at the tax payer's expense working for the UN to combat 'sexual violence' in the region. Her Facebook profile, however, reveals that she found the time to 'Live la vida local' with the local black men, as well as paint pictures of naked breasts. According to her Wikipedia she was a Swedish Green party member known for her role in pushing through the infamous 'sex purchase law' which criminalizes Swedish men (and only men) for paying for sex. This piece of legislation has been the inspiration for other countries (becoming known as the 'Nordic Model') most recently Ireland and likely the UK very soon. Thanks to that law and her role in it, it's fair to say that Zaida Catalán has huge responsibility for destroying the lives of tens of thousands of men worldwide, denying incels and the disabled the right to experience sexual pleasure, putting untold thousands on the sex offenders register now and in the future, many of them to be raped and beaten whilst in prison.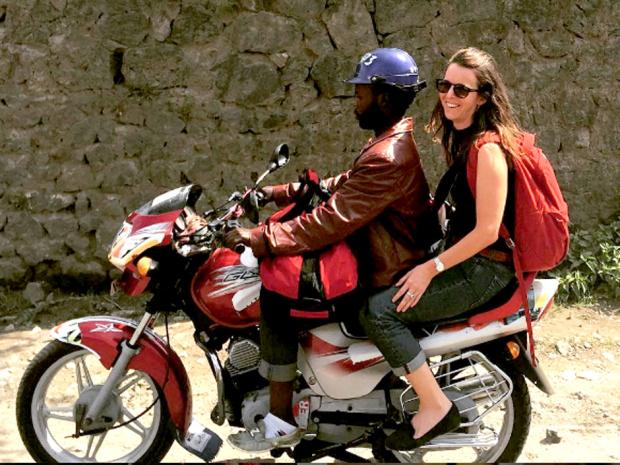 Whilst thousands of Swedish men have already been arrested or shamed for 'paying for sex' thanks to Zaida's law, it is known that Swedish females make up one of the largest sources per capita of the tens of thousands of white female sex tourists who flock each year to Jamaica (and increasingly Africa) to 'chase the big bamboo' and pay for sex – oh sorry, I mean 'romantic companionship' – with well endowed poverty stricken uneducated black males.  Not one of these Swedish female sex tourists has ever been arrested.
While there is no suggestion at all that Zaida had headed to Africa for any other reason than to enjoy a freebie sun drenched vacation at the tax payer's expense whilst advising local feminists on drawing up laws to criminalize catcalling in the street etc., female 'aid workers' elsewhere have come under scrutiny recently for abusing their position to molest vulnerable and even underage Third World refugees in places such as the Calais 'jungle'.
The goal of feminism is to remove all constraints on female sexuality while maximally restricting male sexuality.
Some interesting comments in the Roosh V forum thread devoted to the story, including several that bear the hallmarks of acquaintance with the ideas and anger of this site, but can any readers who are RVF members please log in and educate them in what the 'sex purchase law' is?