Rather than updating the previous post concerning the Dutch decision to raise the minimum age for prostitution, I've decided to devote a new one to putting the affair into some proper context.  The politicians who are quoted as being for this new law all seem to be male white knights and they include the far right Dutch 'Islamaphobe' Geert Wilders.  The background is a recent moral panic that has taken hold of the Netherlands, and one that is in fact emerging in the UK and Germany as well. In Holland, it is known as the 'lover boy' phenomenon.
 It appears to be a spin off of the sex trafficking panic itself, and follows the same tried and tested pattern of feminist lobbying based upon primal fear mongering. It employs a selection of harrowing anecdotes, together with incredible statistics seemingly plucked straight out of the air.  Lobbying then results in quickly passed anti-sex laws that just so happen to be supportive of the sexual needs and interests of the lobbier.  What is most interesting in this particular sex panic, is that whilst including all the usual suspects – trafficking, child abuse, the internet, another contemporary ingrediant is thrown into the witches brew.  'Islamaphobia'.  Hence the eager support of Geert Wilders and his now very influential populist parliamentary party.
Although it tends to be only expressed openly in right wing blogs, the underlying tacit assumption behind the 'lover boy' panic is that this is about muslim 'paedos' forcing their underage girlfriends into becoming prostitutes.  In the Netherlands, the figure of 5,000 is being bandied about.  Notice how the figures quoted by sexual trade union lobbyists regarding numbers of alleged victims is always nice and round –  5,000.  Not 3,843 or even 5,200, but 5,000.  Just as the number of women who were going to be trafficked into the world cup was a nice, tidy, and eminently quotable, 100,000. 
Currently, I can only spend a few hours a week devoted to this blog and to anti-feminist work.  Sadly, I am not in a position to deliver a researched critique into this figure or the truth or otherwise of the lover boy syndrome.  All I know is that laws that harm men (and that also restrict the freedom of young women and girls) should be based upon rigerous study, investigation, logic and argument.  Instead, it seems that a particular Dutch woman – Anita De Witt, has ignited this panic with a few anecdotal reports of alleged victims, set up a lobbying group, and within months convinced the Dutch government that a new law targeting men, 'protecting the kiddies' (which now includes 20 year old women), as well as having undertones of 'stopping the Islamification of Europe', is a sure fire vote winner.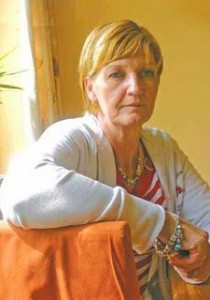 But just one look at the homepage of her quickly formed lobbying group – StopLoverBoysNu, leads me to conclude that it most probably is the usual load of pants involving feminist self-rationalisations for stopping younger females from taking advantage of their own youth and beauty to earn money.
Just take a look at the following 'ways to spot a victim' that appear on her campaign group's front page and tell me that these don't apply to 90% of girls the world over at some point of their adolescence. Psychologists and health professionals normally refer to them as the typical symptoms of undergoing puberty in the 21st century, rather than 'probable victims of lover boys'. In which case, if we lived in a civilised, non gynocratic white knight society, women like Anita De Witt would be locked securely away in asylums, or at least prosecuted for unfounded hate speech against men (and young women), and/or possibly even attempted rape  :
A sudden obsession with sexs and deviant standards.
A sudden interest for particular boys or older boys/men, lots of new contacts
Extra social behaviour ( they don't want you to find out).
Fight with the people who she loves the most (family, friends etc.).
Problems at home.
Changes emotions very quickly, doesn't see how situations can change.
Tired and loses weight (has to work at night)
Wears different clothes and make up, often very clean and challenging.
Psychosomatic complaints.
Selfinfliction.
Low self asteam, no realistic self image.
Easy to influence, can't or don't dare to indicate borders.
Gets calls all the time.
Sometimes have multiple cellphones, takes them with her all the time(even in the shower and to bed).
Taken from en to school by someone with a car or motorbike.
Depressive.
Starts smoking, or smoke more.
Drink, smoke weed or other drugs, doesn't eat well.
Lot's of money or expensive things(via loverboy or lovergirl)
Going out in extreem ways(most of the time it's her work place).
Hangs out a lot, there are friends that fill up the emptyspot at home.
Extremely happy (cover up what's really going on).
Withdraw a lot, sudden crying fits, rage (agression).
Exaggerated stories, acting tough, seeks attention that way.
Behaves different at other places (different worlds)
Irregular schoolvisits, got other things to do, too tired etc.
'Walkaway-behavior'
Avoid subjects like prostitution.
Seems like having no identity
Even being 'extremely happy' is a definite sign that your blonde 13 year old daughter is being forced to have anal sex with strangers for 20 euros a time by gangs of muslim paedos.  It must be good to live in a nation as progressive and generally fucked up as the Netherlands. A decade ago the most liberal society on Earth, now caught up in the twin anti-enlightenment nightmares of feminism and Islamification… and the inevitable muddied and retarded white knight far right reactionary politics. I can only attribute the results of the survey that Dutch people are supposedly the most content in the world to the fact that they are probably all smoking the weed.  That Dutch men are fleeing their country on a scale that dwarfs even the white flight of the Brits, is a far more comprehensible reality.
Craig's List Stops 'Adult Service' Ads
The online marketplace Craigslist has closed the controversial "adult services" listing in the US.

The company has not said why it took the decision, but it has faced an ongoing barrage of criticism from attorneys general and advocacy groups.

They have claimed the listing was a virtual tool for pimps and prostitutes.
Another notable victory for the feminist and American conservative closet pederast alliance.
SITE UPDATES

Restored photograph and added useful links and resources to the bottom of my key article 'The Sexual Trade Union'. (If you have any links or resources yourself to share, please leave them in the comment section below the article).