In the very same week that Sharon Osbourne and her female audience chuckled at the horrific castration of a man, Reddit.com/r/mensrights came up with its very own version of 'Dear Woman', in an apparent attempt to show that whatever the misogynistic sins of the men's rights past, under the leadership of Kloo2 the clueless, we are entering into a new era of higher consciousness co-creation with our fellow feminists :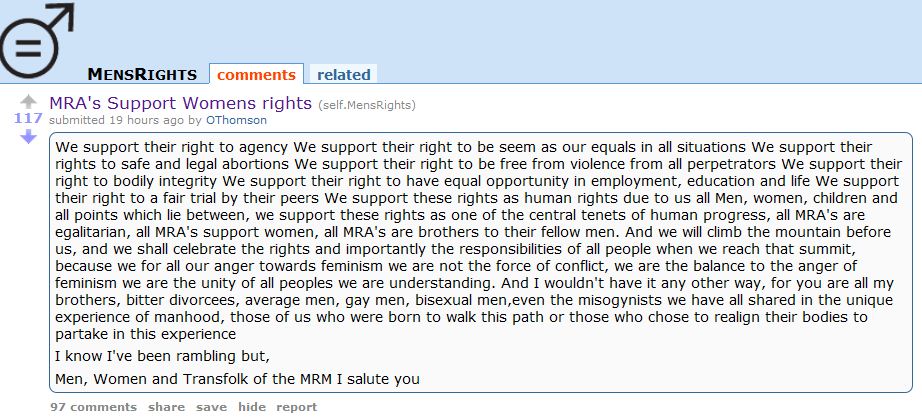 This is what we are fighting for, my fellow MRAs – the right of women not to have to cancel their summer vacations because of inconvenient mistakes like this little fucka :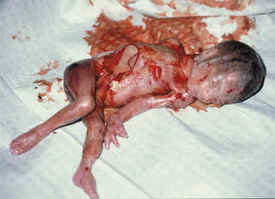 To be fair, Reddit mensrights might have been pushed into the defensive because of a  new anti-men's rights sub-reddit  –  http://www.reddit.com/r/againstmensrights  – formed by a group of feminists who are such retarded radical anarchists that they want anyone who questions feminist laws put in prison.  One of the ring-leaders is the trans-sexual 'thepinkmask', formerly known as 'catlebrity', who earlier this year persuaded Kloo2 to agree that forcing 5 year old boys to dress up as little girls and be paraded around talk shows like a freak is an essential men's rights cause.
Tomek77 left the most sensible comment underneath the men's rights Dear Women post :
I upvoted this on principle, but we don't owe anyone an apology or an explanation. We shouldn't get shamed into "proving" that we are not "woman-haters" – doing so is playing by the rules of those who hate us (and no amount of apologizing for our gender will ever satisfy them anyway).

Considering that feminists advocating the extermination of men (like Mary Daly) are hailed as heroes by most mainstream media, and show hosts can laugh about sexual assaults and genital mutilation of a man wondering whether "he deserved it", I think the burden of proof is on women to show that they support men's rights (and so far I am not impressed).