http://www.express.co.uk/news/uk/383143/Revenge-of-Jimmy-Savile-victim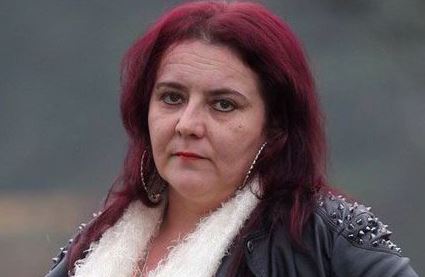 Leisha Brookes, 45, wept as she told magistrates that she refused to pay the £145.50 licence fee because of the abuse she suffered as a child.

"No matter what you fine me, I am not going to give a penny to my ­abusers from the BBC. I cannot pay the BBC or anyone connected with it," she said.

Miss Brookes claims she was abused repeatedly by up to 35 men including Savile over a two-year period while ­visiting the BBC TV headquarters in White City, west London.

Waiving her right to ­anonymity, Miss Brookes told the Sunday Express how the former Jim'll Fix It presenter and her other abusers turned her childhood into a nightmare in the Seventies.

She claimed the abuse on BBC premises took place after a cameraman friend of her family invited her to spend weekends with him when she was aged about nine.

The cameraman allegedly abused her at his home and took her to visit his workplace as a "treat" so she could meet the stars of the day and see where programmes were made.

However, she claimed she was ­sexually abused there by a network of paedophiles on the BBC staff including Savile.
Leisha Brookes is also a prominant member of the English Defense League (EDL) – the violent counter-jihadist movement.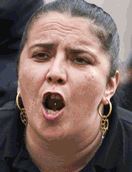 Sometime last year, I recieved a typical troll comment along the lines of 'teenage girls are children, you are a paedophile', with the person posting under the name of a man.  Like most 'men' who leave such comments, it was in fact a middle-aged woman ('he' had left an e-mail address whose owner I tracked down).  It turned out the woman who had left the comment posing as a man in order to hide the fact she was a jealous bag trying to dictate male sexuality was actually a leading member of the English Defense League.  I don't think it was this particular woman (I seem to recall that that women was even uglier than this one), but I'm sure I kept a record of the comment and its poster – I'll have to revisit it when I have more time.
7 Responses to 'Revenge of Jimmy Savile 'Victim' – Woman Refuses to Pay TV Licence Fee'
Leave a Reply