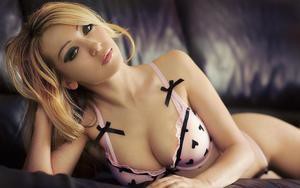 Some call it the Fapularity – the moment in time when the decades long decline in the price of sex for men reaches its inevitable conclusion – a crash to absolute zero…and it's likely coming soon. Both Sex Bots and Virtual Reality Porn are a lot closer than you might think – today the makers of the famous ultra-realistic 'RealDolls' announced plans for their first generation of sex bots – dolls equipped with artificial intelligence which will allow them to blink, change their facial expression, and even engage in rudimentary conversation.
http://www.cnet.com/news/talk-techie-to-me-realdoll-wants-to-make-sex-dolls-that-move-talk/
Unfortunately, feminists have already drawn up hypothetical legislation to ban sex bots or severely restrict their use and sale, before they arrive : http://theantifeminist.com/feminists-seek-legislation-over-sex-bots/
Meanwhile, it was officially confirmed last month that the producers of the Oculus Rift Virtual Reality device, which will go on commerical sale early next year, will NOT attempt to block porn being played on the gadget.
http://www.ign.com/articles/2015/05/19/oculus-rift-will-be-open-to-virtual-reality-porn
According to a leading adult industry insider, virtual reality porn will make all existing fap material obsolete :
"Virtual reality porn will make 2D porn obsolete," said Helmy, founder and president of Xbiz, which, like AVN, publishes a sex industry trade magazine and hosts conferences and an annual adult entertainment awards show.

The kind of free porn being given away now, Helmy said, "will be of little worth." What Helmy and many others are really excited about is the joining of virtual reality porn with haptics, technologies that add sense, touch and interactivity to the porn-viewing experience.

The RealTouch, an Internet sex toy, is already being used by couples in long-distance relationships and sex workers on webcam ("camgirls"). It facilitates synced-up, tactile interactivity between two people using computers.

"Traditional porn is like the cassette tape," said Helmy. "Virtual reality is the CD. But virtual reality and haptics – that will be like the advent of the Internet. Viewing devices will be the driver – the ability to control the view naturally, through haptics."