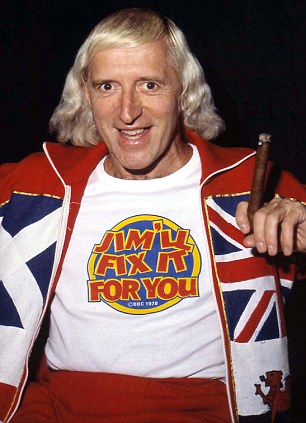 Even dead men aren't safe now from the sexual trade union's historical revisionism. The recently departed Sir Jimmy Savile  is to be the subject of documentary which claims that the famous disc jockey and television presenter was a paedophile who sexually abused girls 'as young as 13′ back in the 1970′s.
http://www.dailymail.co.uk/news/article-2183840/Documentary-claims-Jimmy-Savile-sexually-abused-teenage-girls-including-aged-13-Seventies.html?ito=feeds-newsxml
Back in the sexual anarchy of the 1970′s, stars having sex with adoring and underage teenage groupies was about as wicked as smoking pot.  Or maybe taking your library books back a few weeks late.  It was reasonable to believe in those heady days at the dawn of the sexual revolution that the age of consent was a Victorian throw back which was destined shortly to be lowered.  This is why it is important for the sexual trade union to crucify certain celebrities from that period.  Paedohysteria rests upon the lie that moral attitudes to teenage sex are set in stone – the one moral certainty in an amoral and relativistic world.  In fact, the age at which a girl is considered ready to have sex is one of the most arbitrary and transitory of moral rules known to man (in the modern world – previously the age was always set at the onset of puberty).  Feminists also need to present their ever more draconian and irrational 'child protection' laws as part of the general trend of 'liberal progress'.  The 60′s and 70′s give the lie to that.
But because just about everybody famous was likely at it back then, the paedohysteric feminist media has to select its targets carefully.  Jimmy Saville is perfect because :
He was famously 'odd and eccentric'
He was single and never married (note that the DM article even states this)
He was a good man who did notable charity work, especially for children
He's dead and can't answer back
In the 21st century gynocracy, to be a middle-aged man who has never married now provokes greater social hostility than was previously ever reserved for spinsters.  A middle-aged woman who has no interest in marriage is now re-defined either as a sexually independent cougar or as a woman who doesn't want to be hurt by men.  A man who lives alone and shows a similar lack of interest in marriage or in dating women is simply an obvious paedo.
The shaming of spinsters served an essential historical purpose, given that the continuation of society and civilisation depends on the fertility and child bearing of women.  The present social shaming of unmarried men as possible paedophiles is simply the sexual trade union regulating the free sexual market in favour of the middle-aged vagina.  In other words, the usual rape of the male by feminists with power.
31 Responses to 'Pissing On A Dead Man's Grave – SIr Jimmy Savile Accused of 'Paedophilia''
Leave a Reply