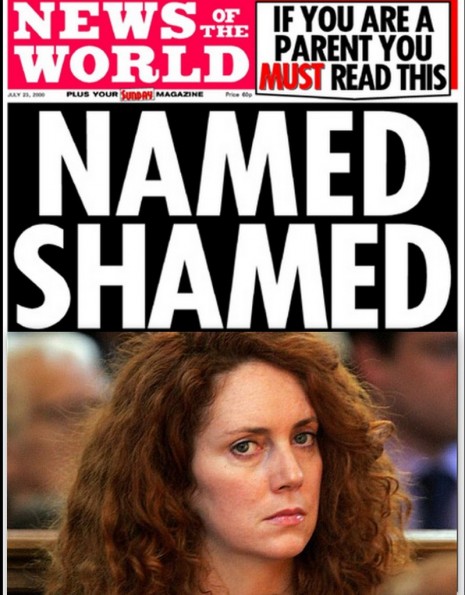 Rebekah Brooks has been arrested on suspicion of conspiring to pervert the course of justice.
The arrest is part of the Metropolitan Police's investigation into phone hacking by News of the World reporters whilst she was serving as the paper's head.  Reporters at her newspaper hacked into the mobile phone of missing 13 year old Milly Dowler (later found murdered) in order to satisfy the British public's insatiable appetite for paedosleaze – potentially hampering the police investigation and putting Milly (if she had still been alive) and other children in danger.  News of the World reporters also targeted the parents of Sarah Payne, whose random murder at the hands of a psychopathic sexual opportunist led to the onset of paedohysteria in the UK, stoked and exploited by Rebekah Brooks with her infamous 'Name and Shame' campaign against convicted sex offenders.
Rebekah Brooks is an avowed feminist, and also launched campaigns against domestic violence which demonised men – despite being a husband batterer herself.