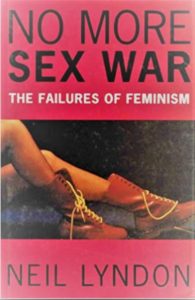 It was Neil Lyndon who started me on my Men's Rights path over two decades ago. Yes, he was the one responsible, LOL. I picked up his classic 'No More Sex War' from my university book market when I was a student in the mid 90's. I actually did him a disservice here recently by claiming that the David Thomas book 'Not Guilty:In Defence of Men' (another great work) was the first men's rights publication of the modern era. Actually, Neil Lyndon's book came first, in 1992 – a year before the David Thomas work.
Although 'No More Sex War' doesn't cover paedohysteria to the extent that the Thomas work did, he does discuss at a fair bit of length the satanic abuse panics of the 80s/90s that were the forerunner of today's climate, and it's clear that he puts the blame on radical anti-male feminism. And yesterday, he showed he still writes with as much sharpness as 25 years ago in an article for the Telegraph on the Harvey Weinstein affair. Not only that, it's clear that 'the first modern MRA' would not find a home in the contemporary Honey Badger WoMen's Human Rights Movement.
http://www.telegraph.co.uk/men/thinking-man/metoo-story-shows-men-victims-culprits/
There are quite a few classic quotes to be relished from the article, but I'll just content myself with highlighting a couple, both of which would certainly find a home amongst the writings and thoughts of this blog :
The curious exclusion of predatory homosexuality in the charge sheet against so-called "toxic masculinity" stems, in part, from the long-standing alliance between the women's and the gay movements – a union as uneasy in its fundamentals as the Molotov-Ribbentrop Pact between Stalin's communists and Hitler's Nazis.
And this one I'm delivering in a hand written note to Hannah Wallen and the Hideous Honey Badgers :
It can even happen that pretty young men may be preyed upon by more powerful women – as I was happy to experience when a stunningly attractive female member of staff at a school I attended took a shine to me. For that abuse of power and office, she would certainly have been sacked and drummed out of the teaching profession; but for the whole of my life ever since, I have remembered the outrage with undying affection and my only regret today is that there wasn't a lot more of it.
Neil Lyndon – the man who kickstarted the modern men's rights movement, even before Angry Harry.
Not a real MRA Hannah?
*** I submitted the link to the original Telegraph article to Reddit.com/r/mensrights yesterday and it was promptly deleted by Honey Badger moderator 'TyphonBlue'. What an utter joke the modern men's rights movement has become.