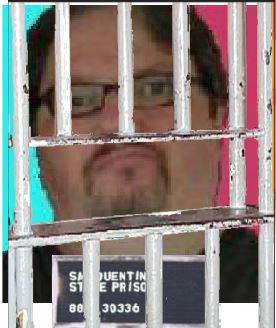 Over the last couple of days, David Futrelle, the Chicago child torture porn apologist, has made what amounts to a public incitement of violence against my person. He has also publicly declared support for a woman who has been making violent threats against myself and my readers here – criminal threats which Futrelle must have been aware of. I have to take these threats seriously and will be seeking criminal charges against Futrelle in the coming months, as well as legal action over his repeated defamatory writings stretching back at least 5 years. Not only is this necessary for my protection, it means that at last, in a court of law, we can get to the bottom of why David Futrelle continues to refuse to even acknowledge the fact that he mocked American police officers for thinking it was inappropriate for a video depicting naked children being anally raped, made to eat shit, disemboweled, and tortured to death, to be rented out in a seedy gay sex shop.

To the handful of men's human rights activists who occasionally attack Futrelle over his child torture porn apologia – please note the last sentence of the previous paragraph. It does not matter that in the sick minds of 'left-wing' social justice warriors, a film made by a left-wing homosexual gratuitously depicting naked 14 year old boys eating shit and then being slowly tortured to death is considered by them 'classic' art.
The fact is, David Futrelle attacked the police for removing it from sale in a gay sex shop.
David Futrelle is going to have to explain why he defended its sale in a sex shop. The prosecuters are not going to go gently on him on this. When he comes out with his lazy rehearsed defence of 'it's classic art…it shows how bad fascism is'..the prosecution are not going to let him off the hook and just fall silent like the tweets of an MHRA. They're going to ask
all very well Mr Futrelle, but why did you mock the police for removing a video depicting the torture and abuse of real, naked, and underage children, from a gay sex shop – 'classic' or not?
In court, Futrelle is also going to face questions over the following :
In the same year as his sickening defence of 'Salo', he wrote an article lambasting a feminist for refusing to admit that we all harbor secret fantasies to torture and abuse other people. He also claimed that the primary means of expressing these fantasies was through watching them being played out on film and in news reports of serial killers and other monsters.
This was also the same year that John Wayne Gacy, another Chicago resident, was arrested for the sadistic murders of young boys.
Several of the male feminist (or 'transgender') readers at his site MammothBoobz appear to be sadistic psychopaths and hardcore paedophiles – one of them is 'assistant executioner' at a BDSM forum catering for men who fantasize about crucifying women and girls. Since I reported this here, Futrelle has not publicly condemned his reader and it is not clear if he has even been banned, but instead it appears to have motivated him to make a public incitement of violence against me.
David Futrelle also wrote an article claiming that the 'innocence' of female victims of abuse is 'exaggerated' and that abusers are unfairly demonized.
He also regularly wrote articles denouncing child sex abuse hysteria, accusing leading child protection charities of lying about the extent of ritual sexual abuse. In another article, he discussed sympathetically whether statutory rapists should often be encouraged to marry their victims, even using the term 'we can't send them all to jail'. Today, he regularly libels men's rights activists and even the likes of Richard Dawkins as 'paedophiles' and 'child abuse apologists' for discussing the same topics. He even wrote an article mocking the idea of child welfare being a subject of political concern – even appearing to mock the 'innocence' of child victims of AIDS.
David Futrelle has repeatedly libeled Warren Farrell over a disputed word in one interview made nearly half a century ago. Not only clearly insinuating that he is a paedophile in the tone of his articles attacking Farrell, but by his use of the tag 'paedophiles…oh sorry ephebophiles' underneath every article he writes about him. He has used this tag when attacking myself or any other MRA who even mentions feminist laws on 'child protection' as well as in stories relating to real paedophiles. If either Warren Farrell or Richard Dawkins chooses to sue him for defamation, he would not have a legal leg to stand on. Similarly, he is no legal position to seek defamation charges against others for suggesting that he, in fact, is a paedophile, by his own logic, for having regularly in his past career as a 'sex positive' journalist discussed critically the feminist narrative on child sex abuse and teenage sexuality.
David Futrelle clearly incited violence against Warren Farrell at the recent men's rights conference in Detroit, using that same disputed interview given nearly half-a-century ago. Farrell is obviously now an old man, subjected to intimidation and attempted violence at previous speaking engagements on men's rights. Futrelle clearly tried to incite similar and greater violence against him and other attendees at the conference using insinuations that Farrell was a paedophile and a 'paedophile apologist'. Again, if Farrell chooses to take legal action against Futrelle over this, he will have an extremely strong case.
Fraudtrelle even recently boasted that it was not illegal to slander somebody as a rapist even if they are found innocent in the eyes of the law by a court :

David Futrelle exists in a psychopathic fantasy world in which he can make a living from constantly slandering hundreds if not thousands of men and yet when one of his victims highlights past quotes that he has made, he threatens to sue for defamation because it might harm his chosen 'career' of making money out of trying to criminalize the very idea that men and boys have rights. He publicly promises to 'assist' a woman who has been screencapped making death threats against myself and my readers for simply highlighting a quote of hers made in a public space (erm..sound familiar David?).
The other day he exploited the latest tragic school shooting in America to slander the entire manosphere as potential murderers- which must number at least 100,000 individuals now, on the basis that…err…I'm not sure but something about the shooter having a penis and most of the manosphere having penises. No doubt he will be launching an early donation drive if he gets a spike in traffic from the mainstream media, just as he did when he took advantage of the Elliot Rodgers killings to spuriously link them to the MRM.
Unfortunately David Futrelle has crossed the line with me and he will be facing the consequences.