Life for men in the UK will get even more unbearable soon after feminists and police chiefs gave more details on their plans to make 'street harassment' – which apparently now includes 'leering' at women or girls – a misogynist hate crime. The female deputy leader of the 'Liberal' Democrats party, Joe Swinson, justified the proposals while being interviewed on live TV.
Last month it emerged that a scheme that could lead to sexism being made a hate crime with tougher sentences could be extended nationwide.

Nottinghamshire Police introduced the trial in 2016 in which it recorded incidents such as wolf whistling, street harassment, verbal abuse and taking photographs without consent as a hate crime.

Police chiefs are due to receive a full report on the pilot scheme and other forces around the country are said to have expressed an interest in following Nottinghamshire's lead.

Ms Swinson wants it to be rolled out across the country. She said: 'This is a hate crime that is directed towards you because you happen to be a woman.

'For schoolgirls walking to school getting leered at, getting shouted at – that kind of harassment is happening on an everyday basis.

'We've seen some of that being called out with campaigns like #metoo.

'But we also know, all of us women on the panel have all experienced it – most women have experienced some sort of harassment in their daily life at some point.
A similar law is also being proposed in France, by this feminist politician :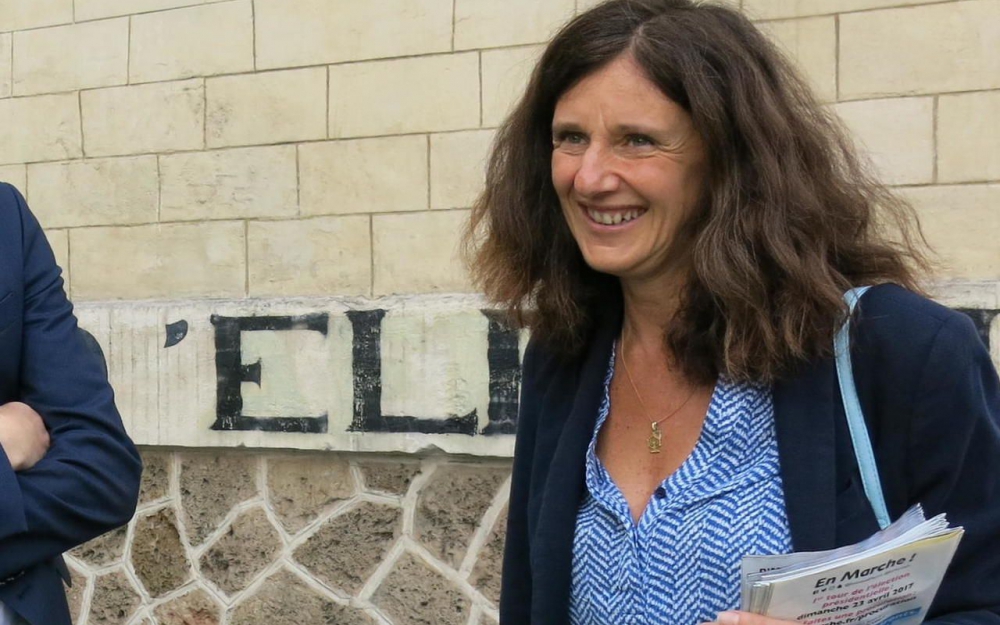 The Bloomberg article linked above mentions that feminists in Portugal recently made it a criminal offence to 'sexually harass' an under 14 in the street, with a punishment of 3 years in prison. I have no idea if believing that the girl was older would be enough to spare you in court. All these inititives are based on the Council of Europe's 'Convention On Violence Against Women', which the International Sexual Trade Union fittingly held in Istanbul, the literal meeting point of Western puritan feminism and Islam. The convention calls on all European countries to outlaw street harassment, and specifically calls for any public behaviour which 'reduces a person to a sex object on account of their gender' to be criminalized. Every country in Europe signed up to this feminist anti-male hate charter in Istanbul, but so far only a few have actually put it into law. Membership of the Council of Europe is even wider than the EU, so even Brexit can't stop the UK implementing its treaties.
Here is a Portugese article on their sexual harassment law : https://www.dn.pt/portugal/interior/piropos-ja-sao-crime-e-dao-pena-de-prisao-ate-tres-anos-4954471.html
Google Translation :
Amendment of the Penal Code in August went unnoticed. Unwanted "sexual offers" are punishable by up to three years' imprisonment.

"Eat you all"; "O drunk, do you want from above or do you want from below? "I gave you three without taking"; "O star, do you want a comet?"; "O my jewel, come to the goldsmith." Banal examples, leaving aside the more hairy (and not less common, on the contrary), of what is usually called "piropo" and that women, from the beginning of adolescence, listen in the Portuguese streets. And since August have, by their nature of "sexual proposals", criminal relevance, on proposal of the PSD, with a prison sentence of up to one year, or three cases are directed at children under 14. This is an addition to the article 170 of the Criminal Code, "sexual harassment", which criminalized already the exhibitionism and the "contacts of sexual nature", commonly known as "apalpões".

This legislative amendment, made in the context of the transposition into national law of the Istanbul Convention – the Council of Europe Convention on the Prevention and Combating of Violence against Women and Domestic Violence signed in Istanbul in 2011 – has gone completely unnoticed, although the subject has been much debated on social networks and profusely commented on in the media. Consistently ridiculed as "exaggeration", "feminist hysteria" and even "violation of freedom of expression" and "end of seduction," the criminalization of sexual harassment, both on the street and at work, was first proposed by the feminist collective UMAR. Women Alternative and Response] in 2011, and then by the BE, who in 2013 presented a bill in that sense, which would eventually "fall" in the works in the specialty.

The idea was therefore that sexual harassment was kept outside the Penal Code (only penalized in the Labor Code). But Cecília Honório, the deputy from the bloc who took the side of her party's bill, admits that the amendment to article 170, which she abstained from voting (all other parliamentary groups voted in favor), criminalizes even a considerable part of harassment, despite using another name. "It was a change that came up in the final proposals that most PSD / CDS put in. And really after all the discussion about the subject has passed through the raindrops, no one has spoken of it.But being a euphemism because it does not talk about harassment , what has been recorded is very good, at all levels. It proves that all the pressure that was and the debate that took place, despite all the ridicule, gave results. And he concludes: "In this the majority [PSD and CDS] behaved very well."

Carla Rodrigues, PSD MP during the last parliamentary term, was the coordinator of the parliamentary working group dealing with the legislative package on the Istanbul Convention. And assume the maternity of the initiative. "The amendment came from our proposal, which was intended to respond to a situation that was not provided for in the Criminal Code. I realized from the hearings and debates that I attended, including a conference on harassment promoted by UMAR, that there were situations that were not foreseen as a crime and that they should be.There was the draft of the BE with which I did not agree, and we understand that it was not the Convention's obligation to penalize harassment, even though there was no consensus on this.And even in my parliamentary group there were some resistance But I gave some examples and managed to convince people. "

The teenage harassment seems to have been decisive for this: "I've talked about cases like that of a 15-year-old girl on the street and an old man coming in and saying," I used to do that to you, I did that to you. "That sensitized them more. The insult or insult has always been provided for in the Penal Code, but a man to tease, to frighten a girl was not committing a crime. And one of the arguments against criminalizing is that women have to know how to deal with it, to respond – but the teenagers too? I have a three-year-old daughter and I talked about this with my husband, about how we would feel about it happening to him, how he could protect it, and I came to this formulation. "

Carla Rodrigues believes that the term "applies in all circumstances: in the workplace, on the street, in social groups, in any situation where an aggressor practices any of these acts. I think women and girls are much "It is necessary to be aware of this and to denounce it.It is necessary to disclose the existence of this new crime."

The MP of the MP Isabel Moreira settled. "Much of what people wanted to be criminalized through the creation of the new article of the Penal Code and which was poorly formulated in the BE proposal, which in my opinion would never pass before the Constitutional Court, is envisaged in the amendment to the 170th and the new tip.