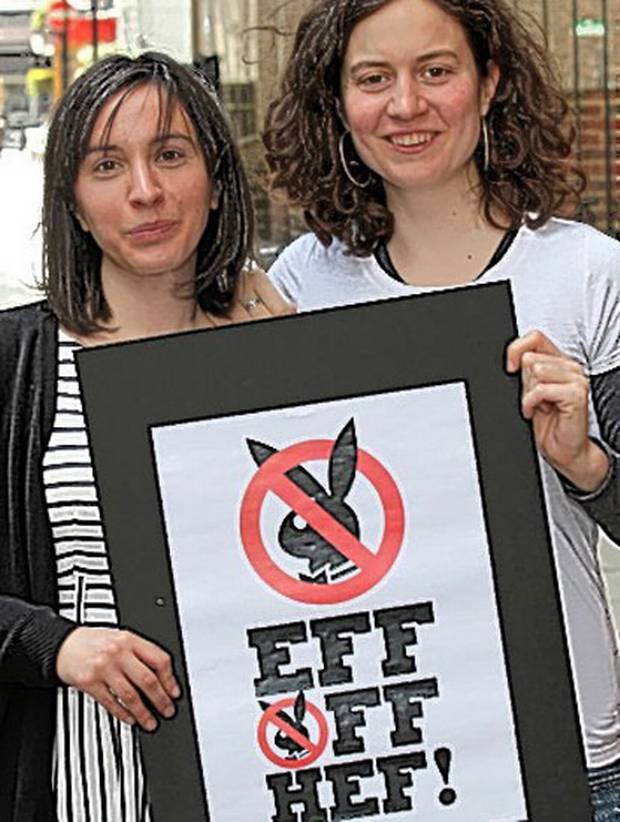 Kat Banyard, probably the most prominent and active feminist in the UK (and possibly the most active feminist in the world) is determined to take feminism unashamedly back to its social purity/suffragette routes.  Not content with leading protests against Playboy clubs and publishing books lambasting the 'sexualisation' of society, Banyard is now holding 'Suffragette training camps' to teach the next generation of feminists into the art of 'non-violent' protest.  The original suffragettes were, of course, violent terrorists, who engaged in a great deal of violent protest, including firebombing the home of British Premier and War Hero David Lloyd George.
Banyard is prompted to talk a little about how the economy is forcing a smaller government, thereby hitting the jobs of female public sector workers, but it's clear where her real concerns lie :
"Because of the ease with which people can share pornography on their mobile phones, it has never been easier to access really violent or degrading images of women," she says. "We are being confronted with it more and more — things like upskirting on mobile phones.

"This all adds up to an urgency. It should be a political priority, but these issues are sidelined and not seen as the disaster that they are. Most people believe in the idea of equality between the sexes; notionally, people support it, but we are a long way from realizing that aspiration."
Yes, yet more laws enabling the government to seize virtually any man from his home in the middle of the night.
Like most feminists, Kat Banyard was probably dismayed by the slut walks.  These training camps could be more realistically seen as a way of re-educating slut walker young feminists.
She continues :
The summer camp will help women — and men — channel their impatience at the slow pace of change into noisy protest. Campaigners are already planning when to put their new skills into action. Politicians should expect some form of yet-to-be-revealed mass feminist action outside the House of Commons in late October. More imminently, Ms. Banyard says, delegates at a European trade gathering for the pornography industry, due to meet for an annual conference at a London hotel, should also be bracing themselves for protest.

As well as providing lessons on how to occupy a public space during a protest, the summer camp aims to be an upbeat meeting place for a group of campaigners who still feel resented.

"Feminism can be quite isolating because it is so stigmatized," Ms. Banyard says. "It can be quite hard to tell people you don't know that you're a feminist, because of these persistent stereotypes — people think feminists are anti-men, are humorless, have to dress in a certain way — so the very act of coming together can be quite powerful.
See also : http://www.the-spearhead.com/2012/08/28/feminists-to-open-riot-school-in-uk/