The Daily Mail regularly carries stories 'proving' how hot modern women over a certain age are.. sandwhiched between advertisements for beauty cream promising to make their (mainly over 40 and female) readers look 17 again, and news stories trimumphantly proclaiming that another pervert paedo has been rightly locked up for looking at pictures of 17 year old children in bikinis.  But occasionally, in a kind of sado-masochistic manner, it does like to remind its aeging readers of the truth.  This week it published a picture of the 1960's supermodel Jean Shrimpton as she is today, the girl who once captivated playboy photographer David Bailey's heart with her teenage beauty :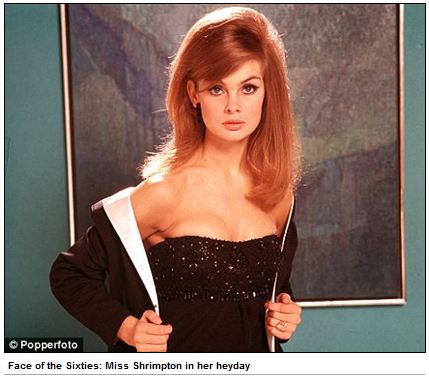 http://www.dailymail.co.uk/tvshowbiz/article-1386512/Sixties-star-Jean-Shrimpton-snapped-Cornwall.html?ito=feeds-newsxml
 Of course, this is a little cruel, especially for Jean Shrimpton, but in the Daily Mail's case it is simply sado-masachistic cruelty as entertainment.  The reason why I have the right to stress how ugly older women generally are is because older women are raping men through their legislation and hysterias that have little basis or justification other than sexual jealousy and bitterness at what nature has done to them, and where the free sexual market has left them.  All the while, resting upon the pretence that men who prefer ripe fertile youth to old hags are subhuman perverted monsters.  The only interesting question is why the male response has thus far been confined to a handful of 'offensive' blogs such as this one.
Meanwhile, the same paper reveals with indignation that most British women think that females over 35 are too old to wear mini-skirts.
I've noted here before that girls and women aged from 13 – 45 are going about everywhere these days in lycra leggings so thin and figure hugging that they may as well just be painting their bottoms and legs black.  Men similarly garbed would be arrested for indecent exposure.  Perhaps women should be as well, but only after a certain age.  After all, I guess the justification for such indecent exposure laws is that such clothing would be outrageous and repulsive to most members of the opposite sex.  But that's equally true for men when the woman is over 30 and clothed in such skimpy attire. 
Given that, as I revealed earlier, evolutionary psychology would predict that older women are more 'harmed' by casual sex than teenage girls would be, perhaps it's time to switch the focus from the supposed sexualisation of girls (actually the enforced de-sexualisation of teenage girls by their older rivals), to the sexualisation of older women, embodied in the 'Cougar' phenomenon?  Should we introduce a maximum age of consent for women?  Should we arrest any woman over 30 who wears semi-transparent leggings in the street or wears skimpy bikinis on the beach?  What age would mark the right cut off point?
Loading ...