An excellent and most interesting article entitled 'Female Sexual Power' was posted on the Spearhead a few days ago.  Although I disagree with a fair bit of it, and want to contrast it with my own 'Sexual Trade Union' theory, its author is to be greatly applauded for producing such an original and stimulating counter-feminist account of sexual power.
The article is based upon a book, as well as an academic thesis, that the author has written in his native Finnish.  It has also apparently caused quite a stir in his homeland.  I'll assume that you'll take a look at it before you read the following 'criticisms', so I won't spend much time explaining the article myself.  And of course, I am aware that his essay is only a short summary (written in the author's second language) of his much longer thesis.  But as the book and thesis are in Finnish, I can only critique (briefly) his Spearhead article.
Very briefly, his conclusion is that 'men want sex much more than women', that therefore 'men need women more than women need men', and indeed that the feminist dictum 'women need men like fish need a bicycle' is true.  Or rather, these conclusions – based upon 'evolutionary psychology, social exchange theory, economic theory of sexuality and Emerson's power-dependency theory' – themselves serve as the premise from which to draw conclusions about the gender power structure in the world.
As I stated at the beginning, any well researched and considered attempt to explain the true, counter feminist, current (and historical) power structure between men and women is to be welcomed. But to be complete, any such explanation would hopefully give an account of the growth of feminism, the relationship between feminism and the radical transformations of society (including and in particular sexual morality) over the last few decades, and have some predictive power concerning the likely future course of gender relations (particularly important for the men's rights movement).
Perhaps it is because the article is only a thousand word summary of a much larger book/thesis, but for me, this is where Lassanen's theory is a little incomplete.
Laasanen acknowledges that an account of female sexual power is important because of its structural effects upon society :
The third important dimension of female sexual power lies in its structural effects. Have you ever wondered why…

…female romantic sexuality is an acceptable form of sexuality, while men's sexuality is sick and perverted?
…women's magazines dominate the official politically correct sexuality, but PUA guides are morally questionable?
…men are the more disposable sex?
…men must usually make the first move in the relationships and risk the rejection?
…men must pay on dates?
…laws are against men's behavior and not against women's behavior?
These are all excellent points, and the broad outline of Laasanen's thesis appears very similar to that contained in Steve Moxon's brilliant 'The Woman Racket'.  For Steve Moxon also, the starting point in accounting for the structure of gender relations in society is the fact, rooted in evolutionary biology, that 'women choose' who to mate with, whereas men must compete to be chosen.  Laasanen points to a study consisting of the posting of fake dating profiles which prompt the fake single females to recieve hundreds of messages from prospective male suitors, whereas the fake single males receive none.  Moxon expresses this reality in the phrase that 'women are the limiting factor in reproduction'.  The result of this inherent female sexual power, both Laasanen and Moxon agree, is that society inevitably prizes women above men. (It should be pointed out that both Lassanen and Moxon wrote their books independently of each other, both appearing in 2008 – highly erudite though he is, I doubt if Steve Moxon understands Finnish!).
What both of these authors appear to miss is that the growth of feminism, and the increasing disparity in overt political power between men and women, is due to the corresponding decrease in the female sexual power that industrial society, and now the globalised mass-media society, has brought about.
Laasanen himself makes clear that there is a difference between sexual market value and relationship market value :
WOMEN'S SEXUAL MARKET VALUE AND RELATIONSHIP MARKET VALUE ARE VERY DIFFERENT: Women's sexual market value is usually much higher than her relationship market value, which means, than women can get high quality partners to short sexual relationships, but she have to lower the bar for longer relationships. For men thing are just the opposites. If a man want just sex (now, today), he must usually settle for the much lower quality partner than himself.
Unfortunately, and again I assume it is because the article is a summary of one aspect of a wider theory, Laasanen does not then go on to draw any obvious conclusions about what the relationship between short-term youthful female sexual power and declining relationship value in older women means in terms of feminism and its possible psycho-sexual motivational basis.
In the comments section below the article, Lassanen links to the following graph, which does contrast the respective difference between sexual and relationship power over the course of a man and woman's adult life :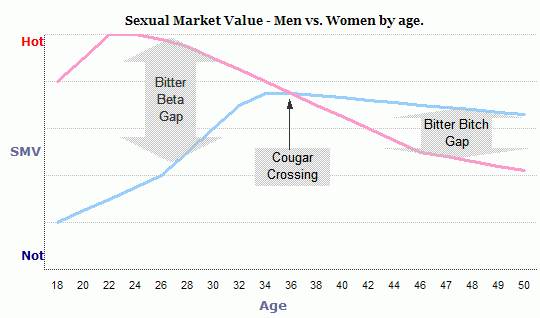 Although the graph confuses peak fertility with peak sexual attractiveness and has an abusrd element – are 35 year old women really as sexually desirable as 18 year old girls? – it does cover rather nicely the basic point that women's 'reproductive' value decreases over time, whilst a man's increases.
And an essential point has to be made.  The distinction between 'sexual' and 'relationship' market value both really refer to 'reproductive' value – the difference being that for women that means relationship value (but they only have their sexual power to win it), and for men it means sexual value (but they only have relationship power to win it).
And in the words of the incomparable Tom Snark –
Men's sexual desires are more immediately intense than women's.

But the baby rabies are still more powerful.
For both Laasanen and Moxon, female sexual power defines gender relations in society and condemn men to being subservient to women.  Unfortunately, and somewhat bizarrely seeing how it is staring them in the face, they both fail to see the significance of changes in the sexual market place that have occured in particular over the last 50 years, and that these changes have quite spectacularly brought about a huge increase in the sexual power of young women relative to the drastically diminishing relationship value (which is what women value and seek as an end in itself) of older and less sexually attractive women.
In fact, it is not just older women that have seen their relationship/reproductive value decrease with the advent of the pill, the secularisation of sexual morality, pornography, and the internet.  There might still be large costs for men seeking sex – sending template messages to hundreds of women on Craigs List and the like in the hope of getting lucky with one or two – but only several generations ago and a man would expect to have to devote himself to pursuing one woman, involving time, dedication, and money, in the hope that she would eventually agree to marry him in order that he could enjoy sex.  From that point on, he would be sexually bound to her for the rest of his life, as each day her body became more aged and less desirable – in fact pregnant for much of her fertile life.  Today, with HD porn of any kind available for free on the Internet, the alternative to marriage for men is at the end of his wrist (as another Spearhead commentator eloquently puts it).  Even stunningly attractive girls can expect their male partners to seek (and to be able to obtain) sexual outlet elsewhere, real or virtual (and to the female mind virtual is 'cheating').
Despite being steeped in EP theory (on a different level to myself, or any MRA that I know) Steve Moxon still largely blames Cultural Marxism for the incredible rise of second and third wave feminism, ignoring the possibility that the loss of reproductive value of, in particular older women, could be to blame for the present feminist hijacking of political power and moral and social discourse. (However, Steve Moxon does devote entire chapters of his book to explaining feminist laws restricting male sexuality on prostitution and pornography in terms of evolutionary psychology).
Claiming that 'women have inherent sexual power over men' seems to me simplistic if it ignores the differences in sexual power between young women and older women, between the attractive and the plain or downright ugly, as well as ignoring the difference between what women value in sex and what men value. Claiming that 'men need women more than women need men' seems absurd if women stress relationship value more than sexual value. Laasanen doesn't ignore these things, but he certainly does seem to ignore their consequences and the obvious conclusions to be drawn from them in relationship to the history and current dynamics of feminism and gender power.
Why account for female power over men in society solely in terms of their inherent evolutionary based sexual power, while discounting the admitted relationship power that men have, and in fact increasingly have in a world in which new technology increasingly makes sexual outlets and alternatives for men cheaper, more varied, and more instantly available?  Why admit that women want more than cheap sexual gratification from men, and then claim that women have increasing power despite social change making it increasingly harder for them to obtain what they want?
I'm more inclined to attribute the historical privileges accorded to women to the needs of group survival in relation to reproductive capacities and the consequent disposability of the male.  Yes, certain women, chiefly young good looking women and girls, have sexual power over men, and it's true that even a 45 year old slut could probably walk into a bar and find at least one male desperate enough to pump and dump her, leaving her 'babies rabies' mind feeling raped the next morning.  But young women and girls have little political power in society and a much more convincing explanation is the relative and rapidly declining sexual power that older women – feminists and their support base – increasingly have in an inherently ever more open sexual society.
Yet, there is a sense in which Laasanen is entirely correct – men having to compete with other men for sex with young women is a key determinant in women exercising power over men in society – even older women.  Take a look at a news story from this morning : Poor Turnout for Men's Group Symposium.
An MSU men's group says they're disappointed but not surprised by a lack of attendance at their "Men's Issue's" event, Thursday night.The MSU chapter of the National Coalition for Men organized a symposium to raise awareness of problems in men's lives.The group geared the event towards fraternity students at the college and invited speakers to talk about things like men's rights when it comes to sexual misconduct investigations on-campus.No one showed up to the event but organizers say the lack of attendence is not due to a lack of interest."One of the fraternity boys, I was working out at the gym, and he walked up to me, 'Hey, hey, you're the guy that did the presentation on the men's group, right?' He didn't want anyone to hear that he was talking about this in public. He was very interested in it, but didn't want anyone to know that he was interested in men's rights, men's issues. So, that kind of shows why no one turned out," says President of the MSU chapter of the National Coalition for Men Chris Thompson.
I tried organising a men's rights group in a similar setting some time back, and experienced exactly the same thing.  The young men were reluctant to take part, not because they couldn't see the valid point of men's rights, but because they (rightly) feared that publicly putting their own interests as men on the same level as that of women would make them unpopular with women – in other words, women would exercise their sexual power to choose to fuck other men, the men who wouldn't stand up for themselves.  Men don't become MRAs because they 'can't get laid', they can't get laid when they become MRAs.  This is probably a large reason why most 'public' MRAs tend to be older and not competing in the sexual market anymore.
The co-educational university system, in a free sexual market, is a place where young women do have sexual power, and use it to maintain an ideology that they are being brainwashed into – feminism – that is chiefly about preserving the sexual interests of older women, who whilst having little or no sexual power themselves, do have political power.  Any theory that fails to take all of these things into account, is incomplete.