Gawker Media is being sued for $100 million by Hulk Hogan for publishing a clip of a leaked sex tape featuring himself.
http://www.gossipcop.com/hulk-hogan-suing-sex-tape-100-million-lawsuit-gawker-bubba-love-sponge/
This is the company that owns both Gawker and Jezebel websites, and which led a crusade against two controversial sexually voyeuristic subreddits – namely r/jailbaits and r/creepshots.  Gawker journalist Adrian Chen was the cheerleader for both campaigns, and recently 'exposed' the anonymous redditor behind both of those subreddits.  He has repeatedly expressed his desire for r/mensrights to be the next on his target list.
It's probably too  much to expect that Adrian will resign over the double standards involved in the gross invasion of Hulk Hogan's sexual privacy. After all, presumably in his White Knight world an unidentified young woman has the right to parade around in semi-naked clothing without being voyeuristically objectified, whereas a male celebrity can have his genitals and private sex life splashed all over the very website the he works for in order for profits to climb and his wages to be paid.  No problem.
However, I don't know if they'll be any money left in the piggy bank to pay Adrian's wages if Gawker has to shell out $100 million to Hogan.
One presumes that Gawker Media were already financially struggling since they were pressured into offloading another of their blog websites – Fleshbot.com – this year.  The adult site was likely the only one in their network that made a substantial profit, but the company apparently decided that housing a hardcore porn site alongside the most popular feminist website online, as well as the morally crusading 'liberal' Gawker Magazine, smacked too much of double standards and rank hypocrisy.
Especially when that adult blog made most of its money out of advertising a porn paysite network that includes at least one highly dubious website, purporting to offer to subscribing members sexual photos and videos of teenage girls – some of whom appear to be underage- illegally hacked from their social networks.

Can Adrian and Jezebel readers spot their neighbour's teenage daughters here?

Fleshbot.com was 'sold' to a Gawker employee earlier this year – Lux Alptraum. It is still using almost an identical site design to Gawker and Jezebel. It seems to be aimed at the same liberal progressive crowd too – even male feminists have to jerk off to porn now and again, right? But at least it's non-discriminatory in its objectification of men and women – almost uniquely, it features both heterosexual and homosexual hardcore porn images on the same front page (and without any warning page. I guess it's too much trouble protecting children from being sexualised by porn if it cuts into your profits and ability to pay your feminist writer's salaries).
I suppose the view of the Fleshbot editors is that you'd have to be homophobic to let the sight of two muscular men exploring each other's asses dampen your appetite for some barely legal teen girl porn, right?
Well, maybe, but wait a moment. Those same feminists and manginas tell us that there is something shameful in men finding nubile teen girls sexually attractive – http://jezebel.com/5881335/why-do-men-love-barely-legal-porn
This seems at odds with what I saw on the front page of Fleshbot the last time I checked several months ago – a story describing how the nipples of Emma Watson – who still looks around 16, and who is still worshipped by 'paedophiles' – could be seen through the dress she was wearing at an awards ceremony. Meanwhile, one of the hardcore videos displayed on the main page wass puported to have been recorded by a teen couple on their webcam – with the heading 'Damn Teens, Making Us Jealous With Their Healthy and Awesome Sex Habits' (NSFW). One reader left the following comment underneath the video – 'Shouldn't those kids be in class?'
But it got worse. Much worse.
The far right hand side of the heading bar at Fleshbot consisted of an advertising banner. On the day I visited it was linking to a porn site called 'Hacked Account'. Here is a screencap of the heading as it appeared that day :

The image advertising Hacked Account was a gif file, alternating between 3 different images. One of the images involved a penis being inserted into a completely hairless vagina.
At this stage I should warn you that you visit that site at your own risk – feminists have succeeded in making it a criminal offence in most countries to simply view a sexualised image of what 'appears' or 'purports' to be a person under the age of 18. This is enshrined in the 1989 United Nations Charter on the Fundamental Rights of feminists the Child. Although America used economic pressure to force every other country in the world to sign up to the charter (except Somalia), and played a huge role in formulating the puritanical anti-sex element of the definition of both a child and of child porn, they didn't sign up to the charter itself, because that would have required them to stop putting retarded 16 year old black kids on to death row. This, together with the fact that the USA is fortunate enough to have a constitution that protects the right to free speech, means that it is now one of the few countries in the world in which a 'sexualised' picture of what appears to be a teen under the age of 18 is still (technically) legal.
Of course, this didn't stop Adrian Chen and the girls of Jezebel from defining clothed pictures of teens as child porn on Reddit. Presumably, they were using the definitions of child porn enshrined by the U.N. and implemented in the laws of most 'progressive' nations.
However, if you visit HackedAccount.com, you'll see that we're not talking about 17 year olds in bikinis or tight fitting jeans here. We're talking hardcore porn videos that are purported to come from the hacked social networking accounts of teenage schoolgirls. And some of the girls featured on the main page of the site look very young indeed – in fact, some of them look as though they could be as young as 13 or 14.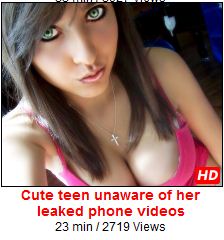 At least one of the video thumbnail images on the homepage appears to simply be a bait for a non-existent hardcore video of the 'schoolgirl' represented – one of the girls was identified by a reader as a 24 year old non-pornographic Asian model famous for her young teenage anime style looks.
It's probable that at least several images on the homepage alone of that site would pass definitions of virtual child pornography – sexualised images of persons appearing or presented to be under 18 – especially in the context of the website portraying itself as an amateur tube site that has obtained stolen videos of teens and schoolgirls from their hacked social network accounts. If you purchase a membership of that site and you live in the EU, then you will certainly be liable to a minimum 1 year prison sentence under virtual child pornography laws. And although, despite the best efforts of feminists, virtual child porn is still legal in the USA, the advertising of what appears to be real child porn under American law – real persons under 18 – is now illegal (http://www.stlbeacon.org/voices/blogs/law-scoop/689).
HackedAccount does contain a standard '2257' disclaimer at the bottom of its homepage, but upon clicking it, you find what appears to be an admission that the company does not have the ID – does not know the age – of some of the models , but it's o.k because those models aren't in 'sexually explicit' conduct that the 2257 requirement covers :

I delayed writing this article till now because I couldn't confirm that CrakMedia were advertising on Fleshbot.com while it was still officially a Gawker website. Now I have :
http://web.archive.org/web/20110719070519/http://fleshbot.com/
Which features the following FLASH advertising banner (WARNING not safe for work and features very young looking females ) – http://ads.crakmedia.com/www/delivery/afr.php?zoneid=2571&cb=INSERT_RANDOM_NUMBER_HERE
The above snapshot is from July 19th 2011.
So to sum up. The company that Adrian Chen and the staff of Jezebel.com work for, made some of its profits (and hence some of their wages) from the advertising of an adult network that, according to most feminists and most feminist laws of the world, contains virtual child pornography images, and likely contains sexualised images of real children in order to trick readers (i.e. 'paedophiles') into thinking that they are purchasing stolen or secretly recorded hardcore videos of those children 'in action'. This is the same Adrian Chen who pressured the company that owns Reddit into ending the publishing of 'child porn' images of clothed teenagers.
This is the same Jezebel that shames men for seeking out barely legal porn, and that supports laws that lead to men having to face years of rape and beatings in jail for simply clicking mistakenly on an illegal amateur teen image. Yet the staff of Jezebel appear to have been having some of their wages paid out of the profits of a website that at least presents itself as one of those very same illegal amateur teen porn sites.
There's one more very important but deeply disturbing issue here. The same 'perverts' who would visit the jailbait and creepshot sections of reddit are exactly the same people who might be tempted to sign up to a membership of a porn site that purports to offer videos of 'slutty teens flashing their asses in public' or of a 'sexy blonde schoolgirl followed by a sneaky cam'.
But of course, if you can look at countless pictures of amateur teen jailbait for free on Reddit, you're less likely to get your credit card out to join a 'barely legal' website that uses pictures of girls that appear possibly jailbait and that promises videos featuring those girls for paying members.
Certainly, the free jailbait sections of Reddit eat into the profits of CrakMedia, and therefore of Fleshbot.com, and therefore of Gawker Inc – at least until this year – a company that had been profiting directly from the advertising of a porn network that uses 'jailbait' style images to entice visitors to part cash for what purport to be stolen hardcore amateur teen videos.
You seriously couldn't make it up.
___________________________________________________________________________
UPDATE : In 2009, Gawker linked to a Fleshbot article featuring leaked naked pictures of Vanessa Hudgens.  They were only removed when Hudgens pointed out that they were taken when she was 17 and therefore illegal child porn : http://i.imgur.com/qb7ld.png
Adrian Chen joined Gawker the same year. So either he was a member of staff when Gawker Media published child porn (rather than 'simply' advertising and profitting from it) or he joined a company that he presumably knew had just been caught publishing and disseminating child porn.