David Futrelle and his readers regularly make fun of the distinction, sometimes made in the manosphere, regarding paedophilia (the attraction to pre-pubescents) and 'ephebophilia' (the attraction to adolescent minors). It's all the same to them. Finding a 5 year old sexy is no more perverse than finding a 17 year old attractive. Hmmm. It's one thing a woman making such an obviously false claim, but when it comes from a 'man' like Futrelle, or one of his many male fake transexual fans..
Indeed, it appears that Futrelle's groupies believe finding any minor attractive is paedophilia, including thefore a 19 or 20 year old in those countries with an age of majority of 21. David Futrelle and his wig wearing fans therefore belong to the minority of people who still regard Alan Turing as a paedophile pervert (he was caught banging a 19 year old boy in the bum when the age of majority in the UK, for both males and females, was 21).
While I agree that the notion of ephebophilia is aspie junk science nonsense (all men, apart from real paedophiles and other perverts, are attracted to adolescents), the insistance that there is no important difference between the attraction to pre-pubescents and post-pubescents is extremely dangerous. Of course, what is 'natural' is not always right, but to criminlize something natural under the pretence that it is perverted, is clearly a recipe for injustice. Furthermore, if you maintain the lie that it is unnatural and perverted, even sick, to find post-pubescent females attractive, then you risk turning healthy men into perverts who have internalized that slanderous paedophile label and then ran with it. Indeed, this appears to be what has happened with many of Futrelle's child torture porn apologist ring members. Whilst publicly shaming men as 'paeodphiles' for admitting that 17 year olds can be sexy, many openly sport avatars of pre-pubescent anime characters. Others freely declare their unabashed love for extreme manga torture porn…and at least one or two actually create it. All of them, however, appear to defend the renting out in an adult sex shop of a disgusting 'art' film depicting nothing but the torture and murder of (real) naked children.
When concern for child welfare is simply a means to demonize men, financially enrich yourself, and regulate the free sexual market in your favour, and consequently you lie to men that to find the most desirable females attractive is paedophilia, equally as bad as the abuse of toddlers, then you open the door to an increase in real paedophilia and perversion. It's hardly surprising, therefore, to find that so many of the mentally disturbed individuals and wig wearers amongst David Futrelle's readership appear to be defending and even cultivating sick torture fantasies regarding children whilst libelling as paedophiles those who argue that giving consenting 17 year olds orgasms is neither child abuse nor paedophilia.
Currently, David Futrelle's schizophrenic readers are simultaneously defending child torture porn as art to be sold in sex shops, on the grounds that the naked actors were sixteen, not six (the actors were actually as young as 14), and therefore 'not really underage', whilst mocking as paedophiles those of us who simply argue that teenage 'minors' are capable of consenting to sex.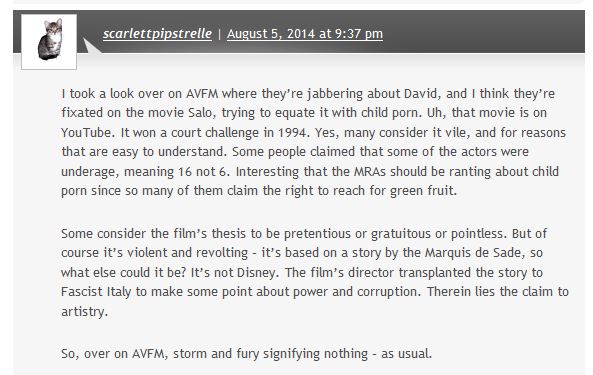 Note that nobody, to my knowledge, has provided a link proving that 'it won a court challenge'. Presumably Scarlettpipstrelle is referring to the arrest on obscenity charges of the gay sex shop owners who were renting it out on their premises. O.K, we have to accept the disgusting fact that, because Pasolini (the director) was a leftie and an 'artist', his films that involve non-stop gratuitous torture of naked 14 year old boys get a free pass to be viewed on YouTube and Netflix. However, even granting the hypocrisy and fake child welfare concern of the left, any civilised society draws the line at images of naked 14 year olds being tortured being rented out in adult sex shops. That includes the USA. These same readers were denouncing the 'jailbait' subreddit for displaying pictures of fully clothed teenage girls as 'child porn', and not only the men who viewed it, but MRAs who defended it, as 'paedophiles'.
Maybe somebody should pop into that gay sex shop in Cincinnati and check whether they are still renting out a film containing naked children eating shit and being disembowelled, alongside all the other gay pornos, sex toys, and jack off material? I assume not, and only David Futrelle and his fellow child torture porn apologists are sick enough to ask 'why not'?