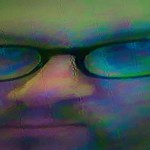 David Futrelle, the disgraced blogger and child scat torture gay porn apologist, recently updated his comments policy after use of certain words were causing 'triggers' and other offence amongst his easily offended readers. In particular, regular commentators at the site were reminded to choose their words carefully when describing mental illness. Understandable, perhaps, given that many of his commentators appear to be clearly mentally ill. But along with banning words such as 'crazy', the disgraced Chicago blogger Futrelle has made a particular point of warning his followers not to use the term 'psycho'. This might explain why a transvestite sadist who runs a sick forum devoted to the sharing of fantasies of torturing and crucifying women and schoolgirls is still allowed to comment at WeHuntedTheMammoth, nearly a year after I made public here exactly what he was.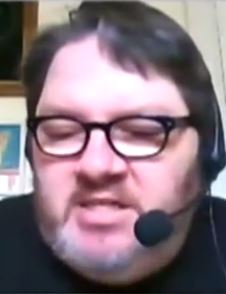 When I first exposed 'RalMCG' as a pervert who openly helps moderate a truly sick bdsm forum that specialises in the rape, torture, and crucifixion of women and girls, Futrelle appeared to react with fury – vowing revenge by publicly pledging support to a woman who had threatened to track me down and kill me (note that I had not doxxed ralmcg at all – he openly uses the same handle at Futrelle's site as elsewhere online, including the perverted bdsm forum).
It is certainly beyond question that Futrelle must have been aware of my article, as must have many of his readers. For a couple of months after the piece was published here, Ralmcg appeared to go silent at Fraudtrelle's site, and I assumed that the ManBoobz had had the sense to ban him, albeit quietly and grudgingly. But that's not the case. RalMCG has been back commenting again, using the very same account as before, only this time he has a new avatar, which again features the pervert wearing his favourite 'Daisy Dukes' in order to show off his hairy legs. Disturbingly, he appears also to be wearing a t-shirt that, at first glance at least, looks like it is splattered in blood.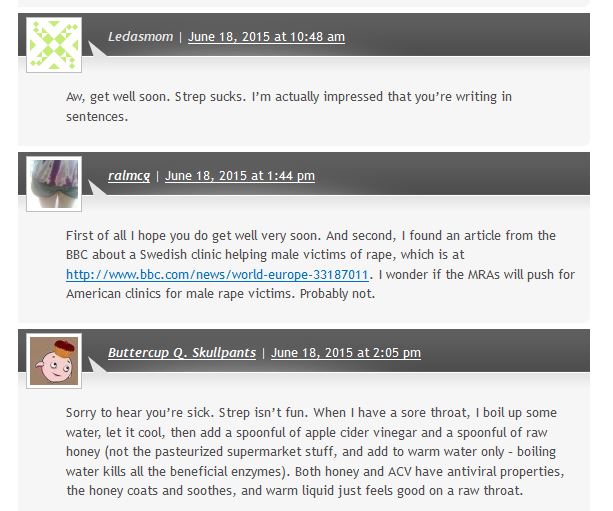 Although RalMCG claims to be concerned with victims of rape, you wouldn't guess so from the comments he leaves at the sick bdsm forum of which he is 'assistant executioner'.  In fact, the idea of women and girls being raped along with being tortured, and even murdered, is evidently a sexual obsession.

None of Futrelle's other commentators, many of whom appear to be sadistic male transvestites like Ralmcg, rather than genuine feminists, seem to have any problem with him at all, despite a number of them being aware of my article. Perhaps unsurprising, as most of those commentators strongly support Futrelle's view that a paedophile made video – SALO – that features nothing but graphic images of naked children being raped and tortured to death, should be allowed to be distributed as fap material in gay sex shops.
http://theantifeminist.com/david-futrelles-groupies-and-their-child-torture-porn-apologia-oh-sorry-ephebophile-torture-porn-apologia/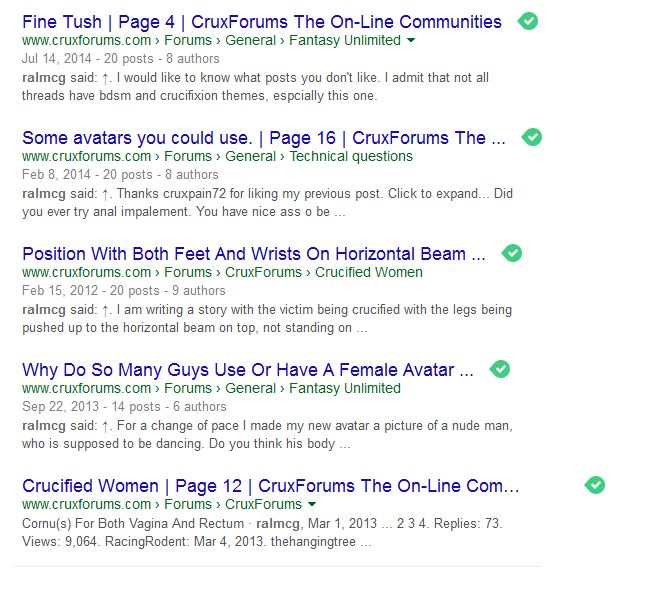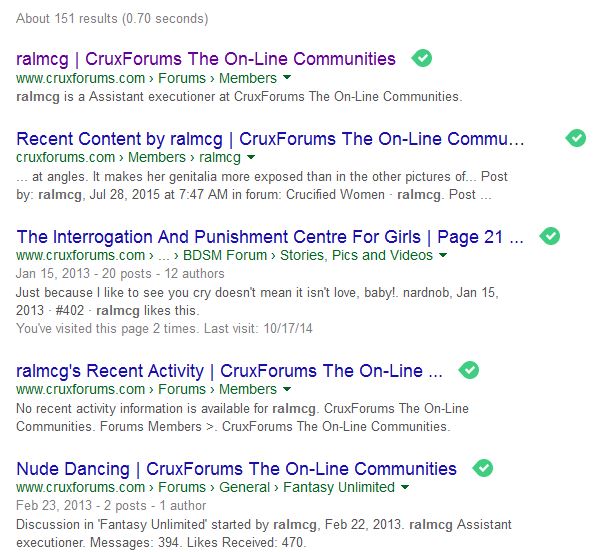 Note that David Futrelle's attacks on the 'manosphere' played a key role in the decision of the left-wing extremist group – the SLPC – to characterize the men's rights movement as a 'hate movement'.  This in turn is being used at this moment in attempts to ban Roosh V from speaking on men's issues in  Canada.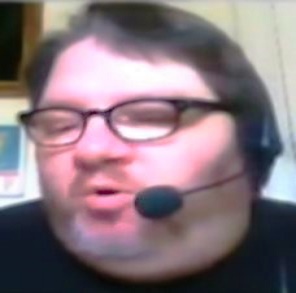 Yet David Futrelle, great grandson of 'The Thinking Machine' author Jacques Futrelle, jokes about 'dumb' policemen who believe that videos depicting children being tortured, raped, and murdered are not valid fap material for gay sex shops.  Not only this, be continues to allow a sadistic paedophile transvestite who openly fantasizes over the torture, rape and murder of women and children to comment at his site.
Futhermore, readers at his site regularly incite violence and make threats against MRAs that go well beyond the 'hate' seen anywhere in the manosphere.  Here is just one example published on his blog recently :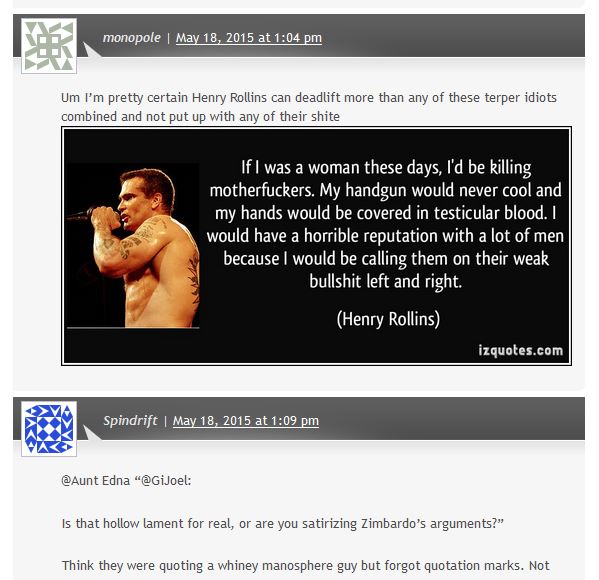 The reader – Monopole – approvingly quotes a male celebrity justifying the shooting and murder of men by women.  Yesterday, I highlighted how Futrelle was allowing readers to call for Roosh V to have toxic and potentially lethal chemicals thrown over him.
WeHuntedtheMammoth, is not only a hate site, but something even worse than that.  It appears to be a shelter for those who sexually fantasize about the torture, rape, and murder of children, women, and men.