**EXTREME TRIGGER WARNING**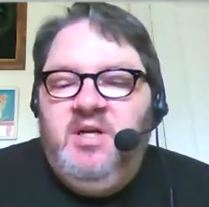 Whatever pornographic newsgroups David Futrelle was checking out back in the notorious 'Wild West' days of the early internet, they must have contained some darned addictive stuff.  How else to explain the following curious, and also somewhat disturbing plea, for the government not to embark upon the regulation of internet pornography and the protection of children from obscene material and paedophiles…in 1995?
http://www.unz.org/Pub/InTheseTimes-1995aug07-00025?View=PDF
In the article, Futrelle rails against the proposed 'Communications Decency Act' – the first piece of legislation designed to protect children from images such as bestiality and child rape online, as well as intending to protect them from solicitations and indecent messages from paedophiles, something which was also a growing concern at the time.
Passed by Congress on February 1, 1996, and signed by President Bill Clinton on February 8, 1996, the CDA imposed criminal sanctions on anyone who

knowingly (A) uses an interactive computer service to send to a specific person or persons under 18 years of age, or (B) uses any interactive computer service to display in a manner available to a person under 18 years of age, any comment, request, suggestion, proposal, image, or other communication that, in context, depicts or describes, in terms patently offensive as measured by contemporary community standards, sexual or excretory activities or organs.

It further criminalized the transmission of materials that were "obscene or indecent" to persons known to be under 18.
In Futurelle's article, which appeared in the printed magazine 'In These Times' in 1995, little concern is displayed for the protection of children and, indeed, the arguments and evidence used by child protection advocates are mocked in the very same disdainful way that he has since made famous in his current incarnation as 'Manboobz' (only the target these days is not anti-paedophile campaigners, but men's rights activists… and in a display of astonishing psychopathic selective amnesia, often accusing them of paedophilia for attacking paedohysteria and draconian 21st century laws on pornography).
Futrelle ends his article with the following plea :
…short of draconian regulations of speech, mass arrests and the virtual dismantling or disabling of much of the vast worldwide network, there is almost nothing that can be done to ensure that the Net remains always and forever free of improper images and words
This is somebody who once described a grown man's fantasy of sexually assaulting a boy in a bar as 'tender' and 'erotic'.  He also wrote extensively on the 1990's child sex abuse panics, denouncing them as hysteria at a time when even prominent child protection organisations such as the NSPCC were leading campaigns promoting them.  In another shocking article, perhaps the very worst that he has written, he appeared to suggest that adults who rape and impregnate underage children should be spared jail ("we can't send them all to prison").
I say the worst, but the truth is that I have read only a fraction of the hundreds of articles that Futrelle spewed out in the 1990's, long before he apparently tired of fapping off to porn and hit upon his 'Manboobz Meet-Ups' scheme.  The thought of what is still lying out there in the dusty internet archives, waiting to be re-discovered, almost sends a chill down my spine.
And probably his too.