In reply to it becoming open knowledge that David Futrelle appeared to defend child prostitution and an age of consent of 12 or 13, he has quoted an obtuse passage from the book he was reviewing in his original infamous article that he wrote back in the 1990's.
His pathetic defence begins by his claiming that he meant women when he said girls….even when he said 'YOUNG girls'.
The rest of his 'defence' then blatantly contradicts this. Even though he means adult women when he refers to 'young girls', he then likens his statement regarding 'co-ercive strategies' to the modern abstinance movement…which is aimed at young girls…i.e. YOUNG GIRLS.
Take a look at the passage from his article yourself :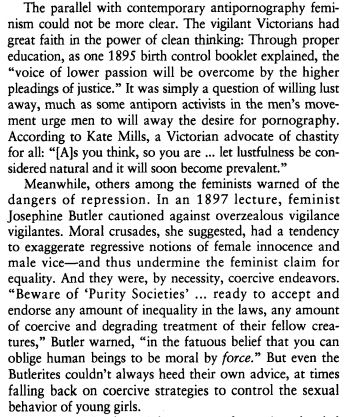 It is clear from the very quotes Futrelle took from Josephine Butler, that 'co-ercive strategies' is being used by both Butler and himself in reference to legal measures.  It only makes sense in a context of there also being 'non-coercive' strategies employed by the Butlerites (which would be akin to simply 'encouraging' abstinance and the like). The ONLY legal 'co-ercive strategies' that the Butlerites engaged in was to (successfully) campaign for the raising of the age of consent – raised from 13 to 16 in the 1885 Criminal Amendment Act, also subtitled 'An act to make further provision for the protection of women and girls'.
Any reasonable reader would interpret David Futrelle's statement as referring to that act – the raising of the age of consent from 13 to 16 with the aim of ending child prostitution.  Particularly in the wider context of David Futrelle's writings in the 1990's, which often deal with the theme of abuse, and in particular child sexual abuse, with Futrelle often crudely mocking the very idea of it (including claiming that the innocence of victims of abuse is exaggerated in an article in which he compares child abuse victims to 'victims' of alien abduction).  Futrelle also once suggested that 13 year old statutory rape victims should be encouraged to marry the men who raped them.  He also worked alongside Judith Levine at the time, the world's most famous 'statutory rape apologist' (as Fraudtrelle would now label her).  One of Futrelle's articles is actually referenced in her book 'Harmful to Minors' which calls for the age of consent to be lowered back down to 12.