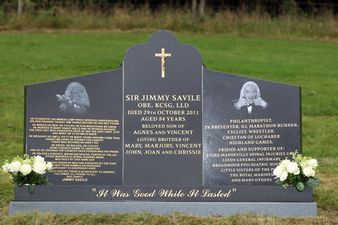 The Crown Prosecution Service has announced that the corpse of Sir Jimmy Savile is to be exhumed and brought to court in order that the allegations against him regarding the sexual abuse of minors can be put before a jury.
Although the move is unprecedented, there is no specific requirement under UK law that the defendant must be alive, so long as he or she is physically present in court to be cross-examined.
Founder of 'Childline' and TV presenter Esther Rancid declared the news to be a victory for the victims who had suddenly 'found the courage to come forward'.  Meanwhile, children's charities such as the NSPCC also praised the move, declaring that they hoped other deceased nonces could be dug up and brought to justice.  They also demanded that the EU bring forward a directive allowing all member states to prosecute deceased paedophiles who have escaped justice in their lifetimes.
Sophie Haggesicht, the head of the leading German child protection charity, told reporters that she hoped to have the remains of both Beethoven and Goethe exhumed and put on trial.  French prosecutors, however, caused a stir when they suggested that legendary feminist Simone de Beauvoir would have her skeleton dug up to face the wrath of the mob.  Women's rights groups immediately branded the move 'an outrage', and claimed that de Beauvoir was only acting under the patriarchal sway of her lover Jean Paul Sartre, and that it was 'structurally impossible' for a woman to be a paedophile.
(see also : http://www.spiked-online.com/site/article/12939/)
38 Responses to 'Corpse of Sir Jimmy Savile to Be Exhumed and Put on Trial'
Leave a Reply