Archive for the 'Uncategorized' Category
Despite this site being up for over 5 years now, and despite now recieving over 1,000 visitors a day regularly, there are still remarkably few men's rights sites that link here.  In fact, I can count them on one hand.
Even the great Angry Harry, who has honoured my site by linking to it from almost the very beginning, is missing from my statcounter these days.
I'm grateful to DelusionDamage for carrying my posts in their feed, and I'm reliant upon them for the bulk of my referring traffic.
If you run a men's rights blog, then I'd be happy to put you on my blogroll if you agree to do the same, and if your site is of decent quality and reasonable viewpoint.
In fact, this blog discusses other themes in parallel to men's rights issues, including male sexuality in general, PUA, and Transhumansim.  Any site related to these themes is welcome to exchange links.
Link exchanges not only trade traffic and readers but, more importantly, improve both site's search enging rankings.
If you want to link and have a link back from me, just drop a comment below with your URL.
I am only likely to refuse links if :
1/ your site is pro-feminist.
2/ your site is pro abuse industry.
3/ your site is completely unrelated to mine and of no interest to my readers.
4/ your site is crap.
A reminder to readers to please link to this site, and relevant articles within it, in the comments sections of other men's rights/manosopher sites and forums, and elsewhere (for example 4chan).  And I'm extremely grateful to those who already do so.
**Note to loyal and esteemed readers – I will be away travelling again shortly, for a couple of weeks.
Emma wont like this :
http://newmalestudies.com/OJS/index.php/nms/article/view/71
Abstract

Though human pair-bonding generally is considered to be male proprietorial control and provisioning, the evidence does not support either of these assumptions. Not only is provisioning relatively lacking and of little impact, but in any case is antecedent to the evolution of human pair-bonding; and the male (in pair-bonding species generically) does not prevent the female partner from engaging in chosen extra-pair sex. In thus contradicting the standard biological model of male mate-guarding as preventing partner defection, its function instead appears to be to displace social/sexual access to the female by lower (but not by higher) mate-value males; thereby indirectly facilitating the female partner's extra-pair sex with males of her choice or acceptance (males of higher mate-value than the pair-bond partner). Furthermore, by producing successive offspring with the same male, the pair-bond in effect allows the female to project forwards in time her early peak in fertility (her own mate-value). [Reproducing instead through promiscuous sex would entail progressively lower fitness of offspring as the female's mate-value declines with age; and correspondingly the mate-value of each subsequent father.] Pair-bonding is, therefore, a service provided by the male to the female. The male's interests are served in that the offer of the service enables a degree of trade-off against deficiency in the male's own mate-value, to secure for regular sex a more fertile female than would be acquired otherwise. With pair-bonding primarily of benefit to the female, the requirement to mate-guard as hitherto understood, to prevent partner defection, is not performed by the male but by the female. This explains the findings of predominantly female 'control' within intimate-partnerships, and indirect measures showing women value and invest in the pair-bond more than do men.
And as opportunities for easier and anonymous sexual access become ever more available to men (examples : internet porn and prostitution), the benefits of pair bonding become even less for men, whilst increasing for women. Hence the Sexual Trade Union and ever more draconian anti-male sexuality leglislation.
http://www.telegraph.co.uk/culture/tvandradio/bbc/10036625/Stuart-Hall-accused-of-dodging-payout-for-abuse-victims.html
Stuart Hall has been accused of trying to stop his child abuse victims from getting compensation by transferring his £1.2million home into his wife's name.

In February, less than a fortnight after dismissing the sex allegations against him as "pernicious and cruel", the veteran BBC broadcaster transferred the family home in Wilmslow, Cheshire, to his wife, Hazel.

He changed his plea and admitted indecently assaulting 13 girls as young as nine.

Hall's lawyer said he was "contrite" and wanted to apologise to his victims, adding that his "disgrace is complete".

Alan Collins, the solicitor representing some of Hall's victims, said the 83-year-old former It's A Knockout presenter's decision to transfer the property showed "contempt" to the women he sexually abused.

Hall's victims are planning to sue him. Mr Collins said: "It's quite a common problem in cases like this, they put an asset in another person's name or even overseas.

"You would have to make an application to the court to have that transaction set aside. It is a cynical move, it shows contempt for the victims. Yesterday his barrister was saying he is very sorry, but words are cheap."
Hall's victims included a 16 year old girl who had her breasts fondled as she was driven home by him (the age of consent was and still is 16 in the UK) and a 13 year old girl he 'kissed on the lips'.
The Daily Mail, a site with a predominantly female middle-aged readership and that now has links with AVoiceforMen, yesterday featured an article on Hall's 'teen victims'*, who were 16 and 17 at the time they were 'molested' by Hall. Again, the age of consent was 16 in the Uk half-a-century ago, and it is still 16 today.
http://www.dailymail.co.uk/news/article-2318565/Stuart-Hall-Two-girls-reveal-spoke-40-years-bring-justice.html
Despite this, the Daily Mail stresses that Hall is a self-confessed paedophile for admitting to his crimes. It is likely that he was told by the police and by his lawyers that so many accusers were coming out of the woodwork to sue him millions make accusations that he was certain to be found guilty on the basis of 'corroborative testimony' (i.e. that a number of different women were accusing him of being a 'paedo') and that the best he could hope for would be to plead guilty to all charges, claim contriteness, and thereby hope to avoid dying in jail waiting in his cell for the next rape or beating.
Until recently, whenever a pensioner was arrested for alleged Nazi war crimes, a discussion would arise in the media as to whether it was fair to prosecute old men for crimes committed so long ago. Could they get a fair trial? Why are we judging them today for actions that took place in a different world? Are they even the same individuals today as they were back then? These people were accused of killing thousands of men, women, and children. Yet in today's liberal progressive world, men in their 80′s, who have raised millions for children's charities, and led on the whole blameless lives and brought pleasure to thousands, can be crucified without mercy or pity for being accused of fondling young girls back in the era of 'free love'. Girls, who now as bitter aging hags, are demanding the bill to be finally paid…with interest included.
*As with Savile, who allegedly abused girls and boys aged from babies to women in their thirties, the media, and especially the Daily Mail chooses to focus on the 'teen victims'.  This is a notable development in the history of paedohysteria, as it used to be the practice for the media to obsess on little girls being murdered by random psychopaths in order to stoke up mob rage and then conflate it with teenage sex in order to push for more 'anti-paedo' draconian legislation that protected women in a free sexual market from nubile teenage competition.  During the Savile hysteria a little Welsh girl – April Jones – went missing presumed murdered, and yet this was totally overshadowed by stories of Savile the paedophile 'molesting' 15 year old groupies in BBC dressing rooms.  Similarly, the trial of the man accused of murdering April Jones began this week, the same week as Hall's trial – almost completely drowned out in the headlines proclaiming Hall as a dirty paedophile for making passes at 16 and 17 year old girls when he was in his 30′s and 40′s.  What this shows is that the Sexual Trade Union has now firmly accomplished a key goal in inflating 'paedophilia' to include, or even mean primarily, normal heterosexual attraction to teenage girls -even 16 and 17 year old girls – and the pretence of caring about real paeophilia is no longer necessary.  Underhand means of exploiting the tragic killings of little girls is no longer needed in order to firmly establish this inflated definition of paedophile in the public's mind.
The Sexual Trade Union, the NSPCC, the feminist media, and the millions of ordinary women who franchise their power, have no interest in stopping real paedophilia or real little girls from being murdered and raped by real paedophile psychopaths.  This is because all they are interested in is raising their own sexual market value through the brutal lynching of men in their 80′s if necessary, for decades old alleged indiscretions with teenage girls. (I must apologise here to woman worshippers for speaking the truth).
Mark Bridger, the man accused of raping and murdering 5 year old April Jones, also propositioned two different adult women the same day he allegedly killed little April.  Presumably he is not a paedophile.   Not like Stuart Hall.
http://stevemoxon.blogspot.co.uk/2013/04/bbc-still-persisting-with-welsh.html
Having screwed up totally TWICE ALREADY (most recently falsely accusing Lord McAlpine) in persisting with bogus kids' homes 'paedophile' rings when there is either no truth whatsoever or just a kernel of it, the BBC has yet again today run with this 'story'. The only basis there has ever been to the whole saga is just the one member of staff: no other staff members, and nobody on the 'outside'; famous or otherwise. All the rest is non-proven, non-provable and very likely complete fabrication.
This (below) is an exposé of the BBC on the saga up to 1999, from the website of the late Richard Webster — the brilliant author of Why Freud Was Wrong and of exposés of bogus 'false memory', 'satanic' and child sex abuse scandals: an article he wrote for The New Statesman which appeared on 19 February 1999.
I've recently been having a rather unfruitful discussion with Emma the Emo over the extent to which men's rights supporters should avoid 'being just like feminists'.  She sees my belief that female sexuality is 'mal-adaptive' as akin to radical feminists describing all men as rapists.
Anyway, to be fair, the discussion did get me thinking a little over what would count as men's rights supporters being 'as bad as feminists'.  Primarily, given that I consider feminism to be a (female) sexual trade union, what would count as a men's rights movment becoming  nothing more than a 'sexual trade union' for men.
First of all, I have no objection in itself to men forming amongst themselves a 'sexual trade union' to combat the feminist version that is responsible for the current rape of male sexuality, and the criminalization and destruction of untold thousands of men around the world.
Another of my readers – Ian – recently remarked that if it comes down to a battle between organized men and organized women, 'the vagina will win'.
Actually, that's not true.  If men did organize themselves in the way that women have, and actually took on women, it wouldn't even be a battle.  It would be a massacre.  A bloodbath.  As we all know, the problem is getting men to form a male union that can defend itself and 'fight' women, and whether we are even psychologically or genetically capable of doing so.  The fact also remains, that women HAVE organised themselves into a political army that seeks to crush men, and men have not even shown up on the battlefield (hopefully, we are starting to finally do that with the MRM).
Does male opposition to PUA and Game count as a form of sexual trade unionism?
I am inclined to say yes, and a not very effective, moral, or intelligent trade union at that.
The feminist sexual trade union seeks to further female sexual power, in particular female sexual market value.  This applies to the vast majority of women.  Even young attractive females arguably have their sexual power and choices diminished by the presence, for example, of ubiquitous free internet porn that serves as a substitute or alternative for a relationship with her, or at least distracts male attention away from her.  The fact that most active members of the Sexual Trade Union (i.e. feminists) are middle-aged ugly crones, might be in large part due to the fact that political power invariably resides in the hands of older people, male or female.  In fact, young women vote or economically franchise these feminists into power, as do middle-aged females.
However, no doubt a middle-aged feminist telling a young prostitute or porn actress, earning an upper middle-class salary for work she enjoys and freely chooses, that she is being 'exploited', is transparently an example of a (large) subset of females retaining sexual power at the expense of other (a much smaller subset of) females.
PUA allegedly gives men increased sexual choice and hence power over attractive women.  On the surface, men, and certainly men's rights activists, should welcome this.  However, this is not the case.  The reasons given of course will be that 'PUAs are frauds', 'PUAs teach men to be pussy beggers' etc.  This sounds suspiciously like the older feminists telling the young porn star that she is being taking advantage of.
And the demographic of the 'PUA hater' does indeed appear to have a vested interest in limiting sexual choice for the 'PUA'.  Namely, the male opponents of Game appear to be largely older men and/or wealthy men who are no longer in the market (at least not without paying or without committing long term), and also young men who suffer from a lack of looks, status, or personality, who have 'tried pua' and found it didn't help them to overcome those natural disadvantages.
No doubt the power of PUA and Game to change any man's sex life has been massively exaggerated, not least by the PUA gurus hoping to sell bootcamps and e-books.  However, for a young man with average or better looks, but non optimal social skills, general PUA advice can certainly help him get laid more often than he otherwise would (PUA detractors will still say that the advice that works is just 'common sense').
PUA allows average young men to take more of the pussy pie.  And of course, it is young men who already enjoy a greater share of that pie.  PUA essentially teaches young men not to stay in a committed relationship, that having sex with lots of decent looking women is possible.
Obviously, if you are autistic or below average height, or ginger haired, even being 25 wont help you walk up to attractive girls and get them into bed after a 'neg opener', or even to get a flakey phone number from them.  If you are 60 years old, you will still have to pay for the premium pussy in some form – no amount of Game is likely to help you.  In fact, you are more likely to have to pay given that the young attractive females have more young men chasing them with the knowledge and ability to get them into bed for free.
Thus PUA is good for ordinary young men with average or above average looks, not so good for everybody else.
Now most of my regular commentators are, like me, past 40.  Most of them appear to be quite strongly opposed to PUA.   Similarly throughout the men's rights movement – it is older guys like Paul Elam who are most vehemently opposed to PUA, while it is the younger MRAs who support it.
Is this a form of sexual trade unionism, and what is my opinion of this?
As I said, I do not object to sexual trade unionism in terms of men finally banding together to stand their ground against the gynocratic privileging of female sexual needs, even if it means 'being as bad as feminists'.  However, if opposition to PUA is a form of male sexual trade unionism, it's likely to be a short-sighted and unproductive form of it.  This is because it is primarily seeking to diminish the sexual choices of younger men so that older men may benefit.  It is men with low sexual market value trying to raise their own sexual market value at the expense of other men.  In particular, other men who are likely to form the bedrock of any sex positive men's rights movement that has the capability to take on feminism.
The question ought to be asked by men's rights opponents of PUA : Is my sexual power threatened more by feminism or by Game?
http://www.stuff.co.nz/national/crime/8577037/Man-sent-to-jail-for-watching-pixie-sex
A man has been jailed for watching cartoon videos of elves, pixies and other fantasy creatures having sex.

Ronald Clark downloaded the Japanese anime cartoons three years ago, setting in train events that would see him in court in Auckland and jailed for three months for possessing objectionable material, and sparking debate as to what harm is caused by digitally created pornography.

Clark has previous convictions for indecently assaulting a teenage boy and has been through rehabilitation programmes, but the video nasties he was watching in this case were all cartoons and drawings.

He says the videos came from an established tradition of Japanese manga and hentai (cartoon pornography), a massive, mainstream industry in that country.

They weren't even depictions of people – Clark's lawyer Roger Bowden described them as "pixies and trolls" that "you knew at a glance weren't human".

Bowden said the conviction for possessing objectionable material was "the law gone mad".

However, while the cartoon characters were elves and pixies, they were also clearly young elves and pixies, which led to concerns the images were linked to child sexual abuse.

Anti-child pornography group ECPAT Child Alert director Alan Bell said the images were illegal because they encouraged people "to migrate from there to the real thing".

"The distribution of it is damaging. You have to ask what impact does it have even if it's not harming [an individual child]."

Bell said it had to be conceded that no child was harmed in the images' production but "it's all part of that spectrum". Cartoon images of child abuse were a "huge" problem in Japan and the practice had started finding its way into computer games, he said

Lincoln University philosophy lecturer Grant Tavinor, who writes on the aesthetics of video games, said the case raised two key questions: Did producing the pictures harm anyone, and could their viewing and distribution be injurious to the public good?

"The worry is that viewing or distributing such images could support the sexual exploitation of children even if the production of the images did not actually involve the exploitation of any children," Tavinor said. It's not enough that no one was harmed in the making of the videos, the law takes a protective role and says there are some things we just don't want circulating in society, he said.

Auckland University associate philosophy professor Tim Dare said "the justifications for punishment are likely to be worries about the tendency of the images to promote harm to real people in the future, or a concern for what the interest in the images tells you about their 'character' ".
Ad Feedback .

Clark himself argued that the law led to the absurdity that he could, in theory, be convicted of possessing objectionable images of stick figures.

Clark admitted he was interested in the images but he said it was for their artistic merit and as "a bit of a laugh". He did not find them sexually arousing, he said.

Tavinor said there were ethical issues that complicated the case.

"The ways a person entertains themself is not morally negligible. This is probably an additional factor in the current case because as well as worrying about the effects these activities might have on children, we also naturally make moral judgments about the character of the person in question.

"But for the purposes of law it is probably important to distinguish between these because convicting someone for their moral views is very dangerous."
What disturbed me the most in this story is the defence of jailing a man (likely to be raped and beaten in prison) for thought crime by the two philosophy lecturers quoted. In particular, Grant Tavinor, a published philosophy lecturer at the University of Lincoln, who believes that a way a person 'entertains himself' is not morally negligible. Maybe we should criminalize wanking if it's accompanied by impure thoughts? Or maybe just the thoughts themselves? After all, scientists are developing mind readers at this very moment. Tavinor is credited with being an expert on the ethics of video games, yet he doesn't appear to apply the same logic to violence in video games. Teenage boys spending hours killing, maiming, and beheading countless other men in violent video games appears to be fine, but watch a pair of cartoon elves fucking each other, and you deserve to get your nonce anus raped on a daily basis.
Good to see that Western philosphy, after 2,500 years since its ancient Greek beginnings, has clearly reached its apex with this joker.
If you would like to politely contact Grant Tavinor, and explain to him why there are ethical implications in allowing the feminist state to lock men away to be raped and beaten as subhumans for watching cartoons in their own homes, then this is his university e-mail address :
Grant.Tavinor@lincoln.ac.nz
Brief note to reddit r/mensrights : This is a men's rights issue because this is men being jailed under feminist laws, lobbied for by feminists, made by feminists, and implemented by the feminist state, laws based only on feminist junk science, or in this case, only by feminist speculation.  These are men being sent to prison where they will likely be raped and beaten, or at least face the constant and realistic fear of being raped and beaten, for simply watching cartoons in their own home – under laws made by middle-aged female feminists.  This is a men's rights issue.
Apparently these 'sex tourist hunters' go out armed looking for Western men to humiliate or even physically attack.  Warning – contains disturbing footage of the creatures reducing an elderly Italian man to tears followed by the Ukranian audience rolling about in gleeful laughter.  Note also that while the male 'sex tourist hunter' is a typical fat mangina, the woman is attractive, even if her insane bitterness and misandry is clearly etched into her classically beautiful features. No doubt she was jetting off to London or Paris after the show to be serviced by one of her black boyfriends.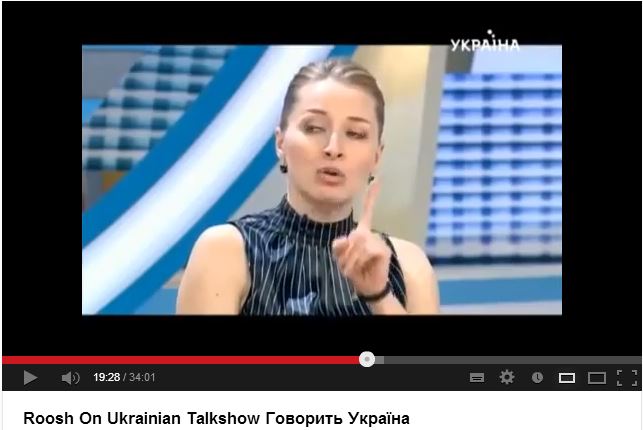 http://www.rooshv.com/my-appearance-on-a-ukrainian-talkshow
Ukraine, of course, is the home of 'Femen' – the topless radical feminists who are in fact just about the only feminists in the world who can show their breasts without inducing mass vomiting on the part of bystanders.
And so, of course, they do…a lot..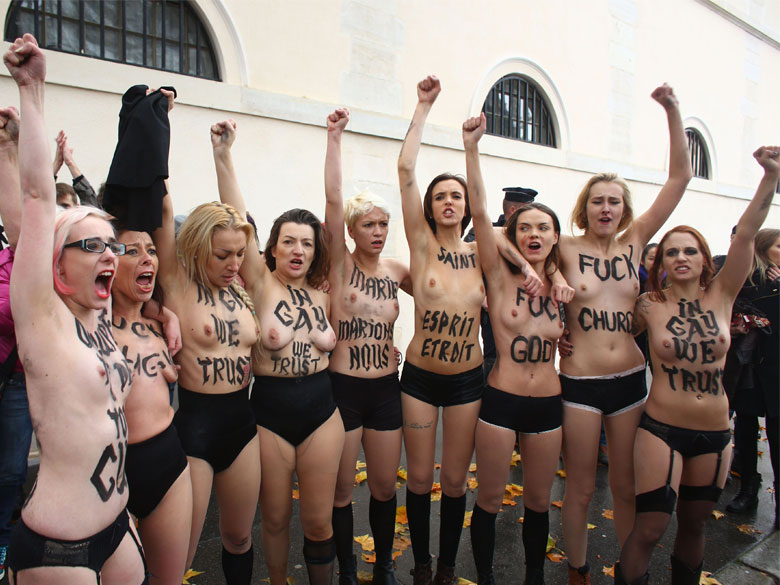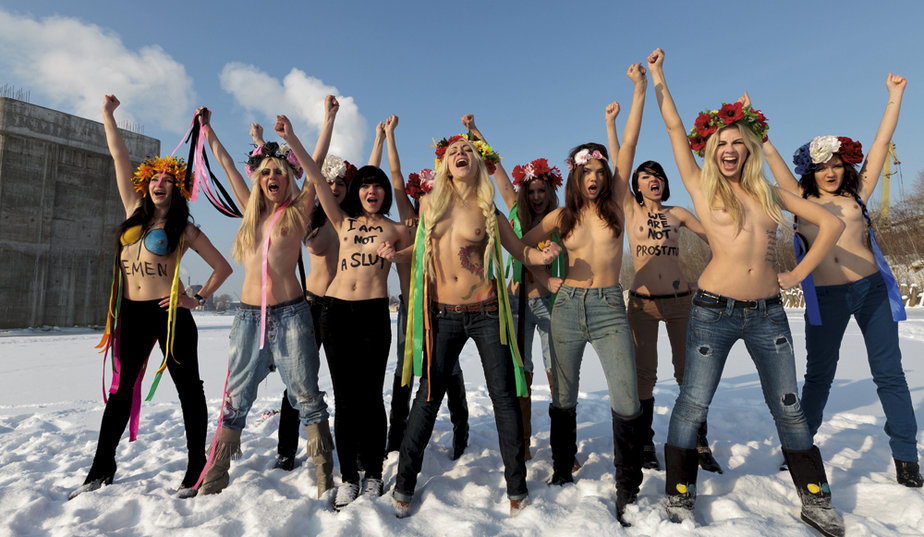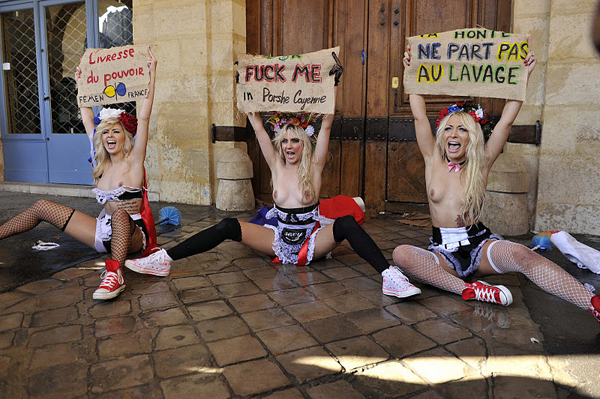 http://uk.news.yahoo.com/is-page-3-doomed–girl-guides-call-for-ban-as-pressure-builds-on-43-year-institution-153732973.html
It has been described as an 'innocuous British institution' by The Sun's current editor Dominic Mohan.
But ever since the first topless model appeared in the tabloid newspaper 43 years ago, the now iconic 'Page 3 girl' has been the subject of intense controversy.

So – with thousands of Girl Guides today joining growing calls for the feature to be axed, and even Sun owner Rupert Murdoch suggesting its demise, we ask: is Page 3 doomed?

Girlguiding UK petition organiser Katie Wormald, 17, echoes the views of many critics by saying: "I believe it is wrong for women to be reduced to mere sexual objects in a family newspaper."….

….But protests have grown. Campaigners helped bring about a 2003 law that made it illegal for models to pose topless before they had turned 18.

Until then the practice of 16 years olds baring their breasts had been commonplace.

Page 3 favourites Samantha Fox, Maria Whittaker and Debee Ashby all posed topless at this age.
Opponents to Page 3 have long been derided by editors of The Sun.

Labour deputy leader Harriet Harman, for example, has been branded a 'feminist fanatic' by the paper.

And Labour firebrand Clare Short, who attempted to introduce a ban in 2005, was accused of being 'fat and jealous'.
And here is Katie – can you imagine what a bitter jealous prudish hag she's going to be when she's in her 40′s?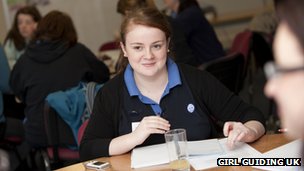 See also : http://www.bbc.co.uk/news/education-22064433