Franck Ribery facing German investigation over under-age prostitute claims
Ribery has never denied having paid for sex with Zahia Dehar, now 18, but his lawyer has said that the player had no idea in that she was under-age. Miss Dehar has also said he was unaware of this.

Barbara Stockinger, a spokeswoman for the public prosecutors' office in the southern city, home to Ribery's club Bayern Munich, said: "We are looking into whether to begin a formal investigation."
Of course, in any fair system of justice, if anyone should be prosecuted here it is the girl for entrapping an unwitting man into committing a crime.  The reason why feminist rapists are so adamant that ignorance is not a legal defence in these cases, is because the intent of these laws (including the British law against sex with trafficked women) has little to do with stopping 'children', or anyone else, being exploited.  Rather, it is to deter men from seeking out prostitutes at all (lest the prositute turns out to have been underage or one of the very tiny trafficked minority). 
Similarly with age of consent laws.  I've often read that the justification for an age of consent at 18 is that it makes it less likely that an older looking 14 or 15 year old will be (unwittingly) propositioned and seduced.  In fact, the true reason is that it makes it less likely that any man will dare try to pick up an 18 or 19 year old. 
An excellently (ironic) summary of Julie Bindel's article on the Swedish government's prostitution report : 
(she) immediately announced to the world that the law presents one great and unequivocal success against evil forces of patriarchy and male domination over women. and that's how we stumble upon the greatest fan of snoop dogg among lesbian-feminists, julie bindel and her commentary "Legalising prostitution is not the answer".
in the article (which by the way was published by the guardian on the same day as swedish report) our feminist diva provides her fans as well as other casual readers with her invaluable insights into the background and realities of work as a researcher in the context of prostitution and trafficking..

..without single qualm she then proceeds to mercilessly criticise, mock and sneer at all the pimps, traffickers, punters and at all other kinds of rapists who backed by hordes of ignorant academics dared to reject her holy principles and her sacred quest to crush the patriarchal oppression of women in prostitution..

..after cynically listing few of the numerous doubts expressed by opponents of the law she exaltedly shakes above her head 300 pages long copy of the Swedish report (even though she probably read no more than fifteen pages of its English summary) pointing at it as a solid and undeniable proof against all those of small faith and most certainly fable mind who expressed any doubts about the sexköpslagen.
Female Czech MPs pose for calender (keep 'em on, keep 'em on!)
The 2011 calendar features four women MPs from the Public Affairs party wearing little in the way of clothing in a series of images that dispatch the traditional image of staid and serious parliamentarians. The country returned its highest ever number of women MPs at the last general election.
These are the same MP's who last year furiously vetoed a bravely progressive bill in the Czech parliament that would have lowered the age of consent (and criminal responsibility) from 15 to 14.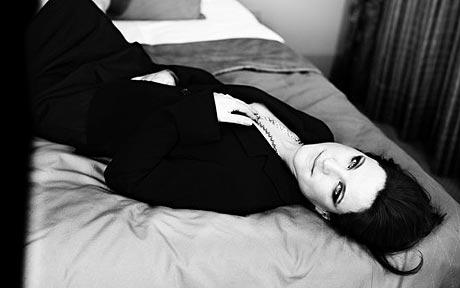 No More Wanking in the Office! Sorry for the video quality, but if you like British humour, you should enjoy this.