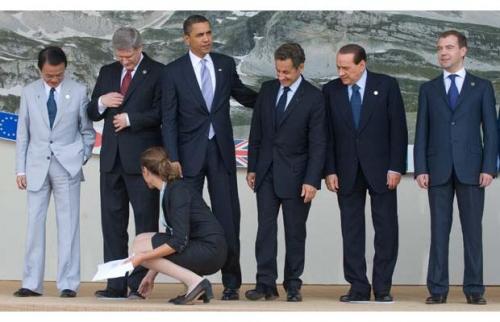 Isn't it odd that national leaders often personify the 'stereotyped' characteristics of the men they lead?  Who in this photo is looking away, or looking at their tie, whilst the sexy woman bends down, revealing her shape?  Which presidents are the leaders of castrated men, and which are the leaders of (still) uncastrated?  Berlusconi, who saw his abysmal poll ratings soar when caught cheating on his wife with 17 year old models?  Nope.  Nicolas Sarkozy, who is married to one of the sexiest women over 30 in France, who dines with Michel Houellebecq, and made Obama his bitch over attempts to extradite Roman Polanski?  Nope.  The Japanese President, who stood up to America and the FemiRapists over demands to criminalize the 99% of Japanese men who have ever clicked on an anime pic of a 25 year old cartoon character in a school uniform?  Nope. 
Spotted at Roissy : Silvio Berlusconi Makes Bid For Alpha Male Of The 21st Century
UPDATES : Added a poll and photo to Peak Female Sexual Attractiveness.  Please vote.  Also added a Anna Kournikova photo to Human Stupidity part 1.