Coming home the other night, I was amazed to see the following poster on the subway wall of Old Street tube station :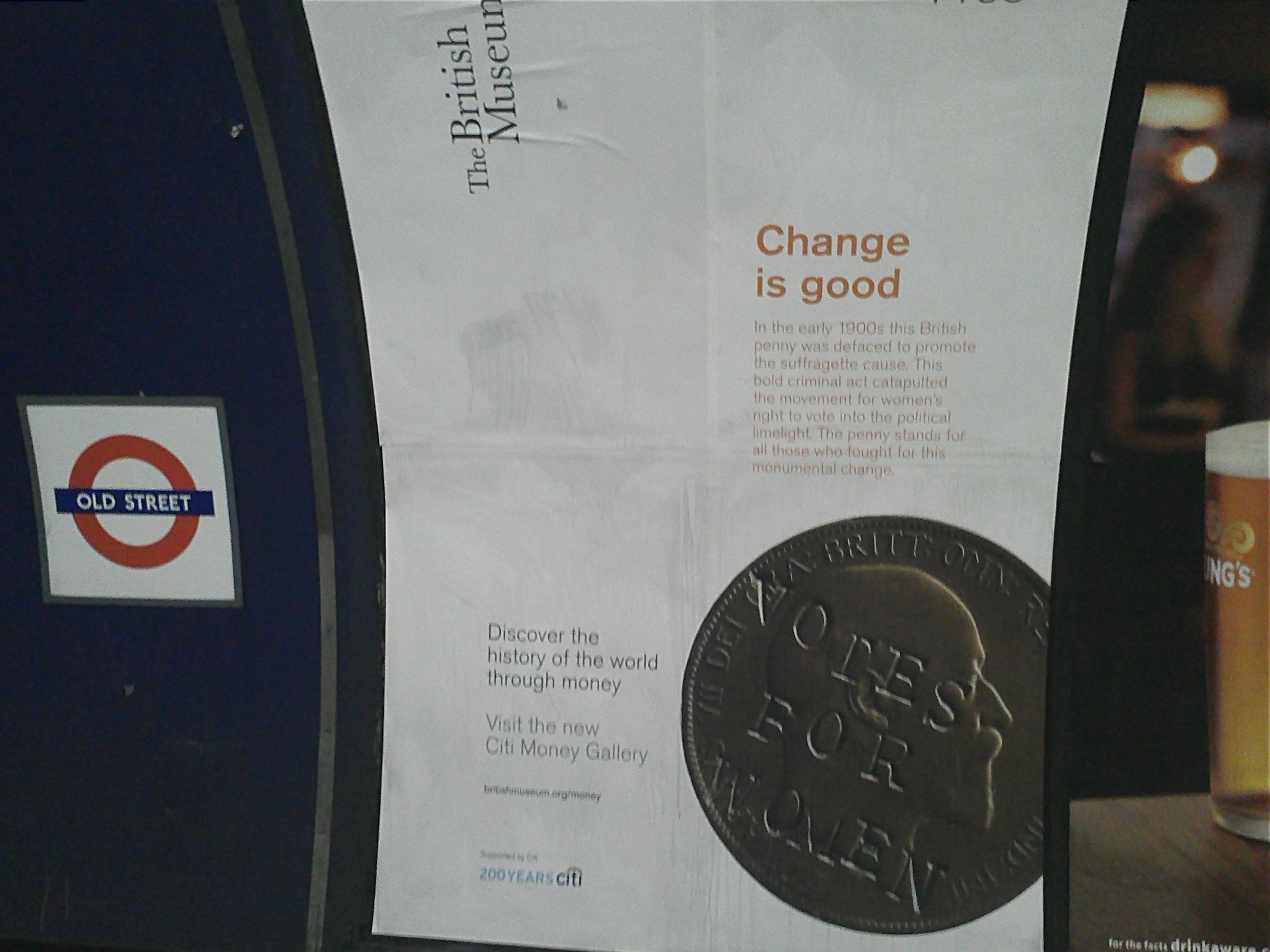 The text underneath the 'Change is Good' headline reads :
In the early 1900s this British penny was defaced to promote the suffragette cause.  This bold criminal act catapulted the movement for women's right to vote into the political limelight.  The penny stands for all those who fought for this monumental change.
The website of the British Museum is even more explicit in describing how 'bold' this criminal act was :
This coin – a perfectly ordinary penny minted in 1903 – was part of this civil disobedience. Stamped with the suffragette slogan "votes for women", it circulated as small change, and spread the message of the campaigners. At the time, defacing a coin was a serious criminal offence, and the perpetrators risked a prison sentence had they been caught. We don't know when the slogan was stamped on this coin, but stamping it on small change rather than a silver coin meant that it was less likely to be taken out of circulation by the banks. The message could have circulated for many years, until the law giving women the same voting rights as men was passed in 1928.
It is now widely recognised by historians that the suffragettes were regarded as an 'Al Qaeda' type terrorist organization, which conducted numerous violent outrages and even plotted to murder the British First World War Prime Minister David Lloyd George.
It is also widely admitted by feminists and feminist historians that the suffragettes saw the vote only as a means to control male sexuality, and that most women of the time were largely indifferent to the issue.
Meanwhile, loyal and esteemed reader Eric has alerted me to an Edwardian anti-suffragette video that certainly reveals that anti-feminists of the time had a better understanding of what feminism was/is, than 90% of current MRAs : http://historyoffeminism.com/the-strong-arm-squad-of-the-future-ca-1912/