As the carefully manipulated hysteria over child abuse continues to grow ever more intense and irrational, the sexual trade union deftly shifts the goal posts, knowing that the mob, both proles and 'rational progressives' alike, are too blinded with nihilistic self-righteous fury to even notice or care.
The Daily Sexual Trade Union Mail reports with gleeful approval over the outrage generated in bible thumping America at a pair of grown women in their mid-twenties dressed up as teenage schoolgirls – shockingly posing..errrm…well, shockingly posing as women in their mid-twenties.. I guess.
Despite the fact that all three cast mates are over the age of 21, the row stems from the fact they are shot as their high school characters.

The Parents Television Council released a statement condemning GQ for publishing the pictures.

'It is disturbing that GQ, which is explicitly written for adult men, is sexualising the actresses who play high school-aged characters on Glee in this way.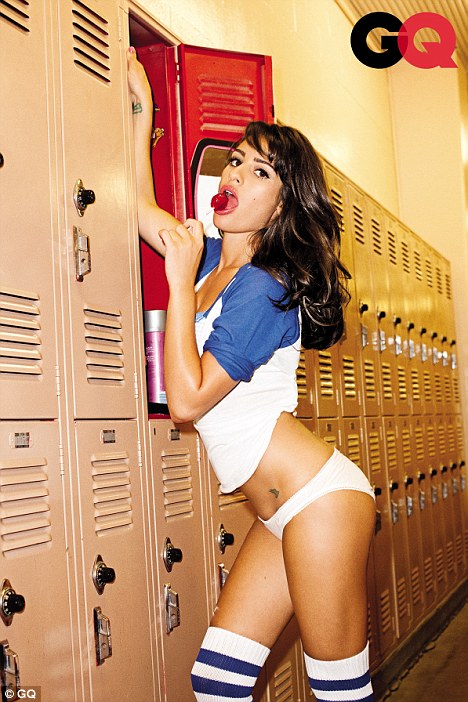 Protected from the perverted lusts of evil men, American girls would clearly be so wholesome and virginal, they wouldn't know the difference between apple pie and hairy pie until their 18th birthday's….or their 21st.  Or 25th.
Or maybe this forced 'innocence' is why they have the highest teen pregnancy rate in the world – eight times as high as Japan?
No, what's freakingly disturbing is the blatant and shameless way that the sexual trade union is continuing to extend and cheapen the notion of what constitutes paedophilia – the abuse of pre-pubescent children, to encompass grown women in their mid-twenties posing sexily for middle-aged men.
And of course, if certain pussy begging progressive and fair minded rationalists get their way, when the global age of consent is eventually raised to 21 or 25, it will be an act of obscene heresy punishable by death to so much as question such laws.
As one commentator underneath the article put it well :
Huh ! WTH are they talking about……? Pedophilia? These are grown *** teenagers not preteens or children. The girl is 24 years old and looks good-it could be A LOT worse. And anyway its GQ magazine, which last time I checked doesn't cater to the preteen demographic. So EPIC FAIL.
In the light of such lunacy, it's hardly surprising that feminist and mangina fascists would like to silence anybody who would even seek rational debate over paedohysteria or the age of consent.  For such irrational, hateful idiocy is only able to exist in an atmosphere of medieval witch hunts and the looming specter of gulags and concentration camps.
Paedohysteria, the obsession with 'sexual innocence', and the very idea of teenagers being non-sexual children, was virtually unique, until very recently, to the most backward theocratic segments of American society.
As little as a decade ago in the German speaking nations, the idea of even 15 or 16 year olds being considered 'children' was faintly ridiculous.  About as inappropriate and demeaning as describing 21 year olds as children still is today in the UK.  This distinction is actually embedded into their language, in the difference between 'kinder' (children) and 'Jugendiche' (young people – teenagers).
I remember visiting a sex shop in Hamburg and seeing a girl who could have been no more than sixteen years of age serving behind the counter. It wasn't shocking.  Why would it be, when many of her customers were 15 year old schoolgirls eager to try out the latest must have vibrator?  Das Bild, the national working-class tabloid, regularly published photographs of 'Jugendliche', who were under 18, topless or fully naked. And back in the 1970's, the most popular 'saucy' comedy film franchise was 'Schulmädchen Report', which would often feature scenes involving teachers carressing the breasts of their 15 year old pupils or spying on them as they undressed in the showers.  These films were considered family entertainment, and were as popular in Germany as the Carry On films were in the UK.
Only ten years ago, the very idea of a sex offenders register would have been taboo in Germany, evoking painful reminders in the collective consciousness of homosexual uentermenschen being forced to wear pink triangles as they awaited their appointment with Herr. Zyklon B.
Now of course, as we saw last week with Angela Merkel's previously unthinkable criticism of multi-culturalism, Germany has 'moved on'.  That a million Jewish kids came to be butchered upon the sacred alter of 'child protection', is no longer a living memory, but rather ancient history.
Why should Germany worry about what the outside world thinks of anything it does – anything that might provoke memories of the initial steps of the Nazi era?  Certainly not when applied to Untermensch paedophiles.  Not when America has already got nearly a million men dehumanized to the extent of being one small step away from a final solution, any discussion or criticism of which will get pederast senators and progressive humanists alike making threats against your retrograde and deviant thought crime.
So it's no real surprise to learn that German television has now launched its own version of the boyish lovinglooking Chris Hanson's Dateline USA.  Just a little sad to think where it will inevitably all lead to (again).  This time, likely on a global scale.  In the words of a male German politician a couple of years ago, when Angela Merkel and her female 'justice' minister were trying to criminilize even kissing between under 18s, (and being forced to speak on condition of anonymity) :
"everybody can see that it's a crazy law, but we're all too afraid to speak out against it in case we're accused of defending paedophilia.  It's just an act of sexual colonialism on the part of America"
Which of the two females below is most attractive?  Now, be careful, don't rush your answer.  Ahem..it's not as…ahem…obvious as it looks.  Well actually, it must be blindingly obvious (hint, the one in the mini-skirt). Because if you make the wrong choice, you are a subhuman perverted mentalist monster in deserve of death.  Isn't radiant skin, piercingly bright eyes, and lush, glowing hair all rather overrated anyway?
Source : Ava Sambora, 13, looks just like mother Heather Locklear. (except 25 years younger, obviously).
I wonder what poor Heather Locklear must be going through?  Something like this woman, I imagine.
Whereas getting turned on by 25 year old women, 14 years post pubescent, is now close to being considered paedophilia in America, 15 year old girls dressed in short skirts dancing around a 40 year old man in his red underpants is considered a sure fire no.1 pop hit in Japan. Or at least it still was only 5 years ago, until they too were conquered by the American feminist/puritan axis of ignorance.  I wonder how it is, if paedohysteria and the sexual trade union in America is doing such a fine job protecting children from abuse, that the Japanese Prime Minister was almost run out of office for his failure to get rid of the US army in Okinawa. In the eyes of Japanese voters, thus ensuring that small Japanese children continue to be unable to walk to school without fear of being raped by products of an American society no longer able to tell the sexual difference between a 5 year old and a 25 year old?
Prepare to be outraged:
In fact Daily Mail readers might be surprised to learn that it was acceptable even in the UK, until very recently, for thirty something pop singers to have naughty schoolgirls dancing around them.  The shocking scenes captured in the following video represent the UK's 2006 entry for the annual Eurovision Song Contest – Daz Sampson's 'Teenage Life'.  A poignant ode to lost adolescence, innocent school days that were never going to end….and the transient joys of being able to bang 16 year old sluts in school uniform on a daily basis.  Unfortunately, Daz's cheeky and tuneful ditty received mainly null pwoint from the Euro Judges…obviously acting under the orders of the sexual trade union…
The outcome of rationalist progress at its finest :