Interesting comment upvoted 30 times, and probably the truest ever spoken regarding 'paedophilia' in the context of men's rights :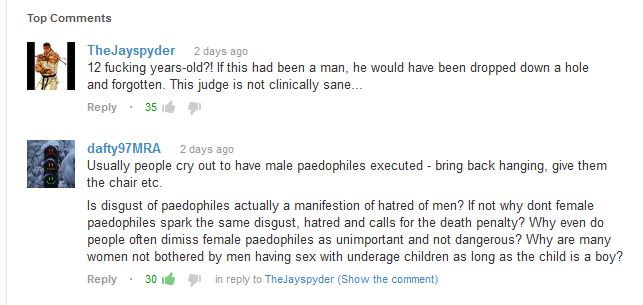 Meanwhile, a Saudi Arabian cleric's wish to cover babies with burqas in order to protect them from sexual assault has drawn outrage from the usual crowd.
http://www.telegraph.co.uk/news/worldnews/middleeast/saudiarabia/9848469/Saudi-Arabian-cleric-declares-babies-should-wear-burkas.html
Now why should that be?
Why is the Islamic practice of covering females up as soon as they start puberty, at around the age of 11, not equally outrageous?
It couldn't be, could it, that pubescent girls are more likely to be sexually assaulted or the object of unwanted male attention, because men are naturally attracted to them, whereas only a tiny minority of men – real paedophiles – are attracted to babies and toddlers?
——————————————————————————————————————-
Met police chief summened to explain why undercover officers used the identities of dead children :
http://www.guardian.co.uk/uk/2013/feb/04/police-dead-children-identities-parliament
Met female police officer caged for a paltry 15 months for accepting payments from News of the World over information on its investigation by the police for hacking into the  phones of murdered children :
http://www.bbc.co.uk/news/uk-21292338
Rumour has it that her fellow inmates are sharpening their dildos in anticipation as we speak.