A group of feminist students at a leading Madrid university have been videoed stripping naked in protest at alleged sexual harassment by their professors. The feminists, wearing masks to hide their repulsive visages, stripped naked inside the university whilst reading out a list of their grievances. Describing themselves as members of the 'feminist assembly of the University of Complutense', the frightful banshees wailed that a proposed law against sexual harassment had not yet been implemented, and that staff at the University regularly 'put their hands around the waists of students' and often 'asked questions of a sexual nature'.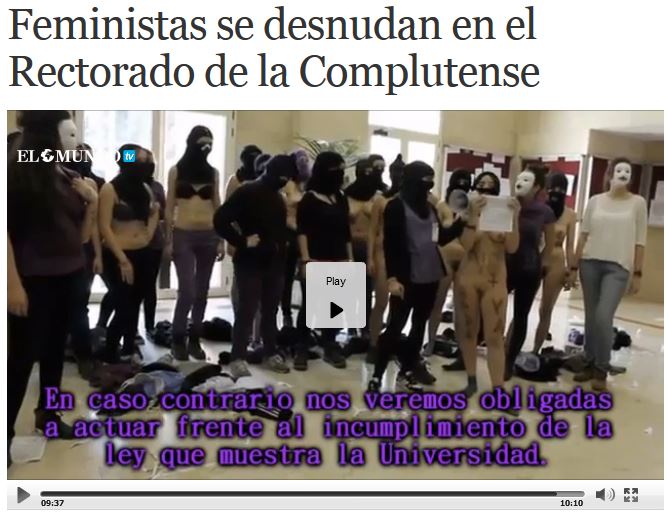 The type of feminist who protests against 'sexual harassment' by stripping naked, protesting topless, or engaging in 'slut walks', is usually so remarkably ugly that it must be obvious to any sane bystander that the feminists are in fact protesting at men 'sexually harassing' better looking women and completely ignoring them.
Last summer I was sitting on a park bench next to a twenty something frump who was trying to seduce me into chatting her up. I had no interest, and when the frump finally realised this she decided to loudly eject gas from her rectum, whilst giving me a smug satisfied look. The stench from her fart was clearly designed to kill my libido for any woman, a kind of 'if I can't have you, I won't let any other bitch have you' spiteful vengeful act.
Slut walks and feminist topless protests probably amount to the same sort of thing.