I believe that our primary goal as a men's rights movement that defends male sexuality should be to seek the prosecution of leading feminists for attempted rape.
Last night I was threatened with death by several women via Twitter, for pointing out that 15 year old Russian Yulia Lipnitskaya is one of the most beautiful and graceful females on Earth – something undeniably demonstrated by the global media adultation she has been subjected to during the Sochi Olympics.  Those same women, who would like me murdered for admitting this obvious fact, recently tweeted their desire to 'permanently look like a 14 year old Brooke Shields'.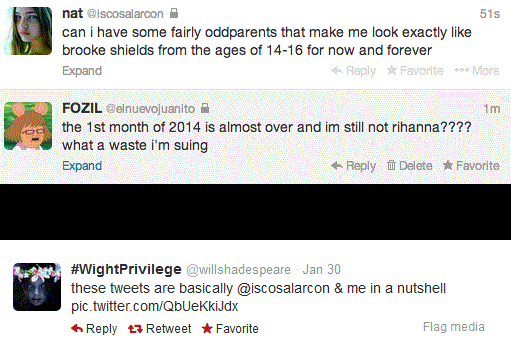 How much more obvious does it have to be that feminist sex hysteria, and the constant criminalization and shaming of male sexuality, is the attempt to further the sexual opportunities of women?  Feminists would like to look like 15 year old girls, but if they can't do that (which they can't) the next best thing is to shame and even murder any man who dares to admit that finding 15 year old girls attractive is normal.
Attempting to co-erce another human being into sex is attempted rape under UK Law and under most sensible definitions, both legal and linguistic. This is what feminists are doing, and this is why they are rapists – or would be rapists.
However, one of my readers, the legendary tactical genius and stalwart of the men's rights movement – Human Stupidity – has voiced his concern that he and most people do not, and cannot, 'get' the idea that feminists are rapists.  So I thought I'd try to illustrate my case through an analogy.  I'm sure there are better analogies out there, and perhaps my readers can suggest others, but this will do for now, that came off the top of my head as I read Mr Stupidity's comment.  Here is my analogy and thought experiment – please take the time to read through it once or twice :
Imagine a barman who spikes every alcoholic drink at the nightclub he is working in with a drug that makes most women who consume it develop a paranoid delusion that sex with anyone but a barman is utterly perverted.  Further, the drug makes the women believe that sex with anyone but a barman will likely be punished with being brutally beaten and anally raped in prison as a subhuman pervert.  Part of the paranoid delusion is the belief that even woman who do not have sex, barmen or no barmen, are treated by society as probable perverts. Women who have not slept with barmen have been accused of being perverts by mobs, and burnt alive by them – or at least the women are made to believe this by the drug. Having sex with barmen, however, is 'normal'.

As a result, despite the fact that there are far more attractive men in the nightclub, women are thus very keen indeed to have sex with barmen, and unsurprisingly, the barman gets regular sex with female clubbers.

Now imagine that for this drug to work most effectively, it has to be taken by many different women, many times, as its incredible effects are achieved partly by mass hysteria – other women whose drinks have been spiked developing similar delusions which then re-inforce those of other women. Therefore, the barmen are operating something like a 'sexual trade union', or as some others might describe it, a 'cock cartel'. They are all in on this, all over the country – even globally – because they intuitively know that they must all act collectively and regularly spike the drinks of the women they serve with the drug for it to work on each individual woman and for each barman to improve his sexual opportunities.

The drug has a powerful effect on most women, but still the barmen are to some extent playing a numbers game. It's not a case of spiking one individual woman's drink and then knowing that she will have sex with him as a result. They have to spike the drinks of thousands of women, and further, to rely upon other barmen around the world spiking the drinks of thousands and millions of other women. And it is important to note that even then they don't know which woman will ultimately have sex with them. In fact, any woman who does have sex with any individual barman might have had their drink spiked by a different barman. It might even be the case that the woman would have had sex with the barman even if her drink hadn't been spiked. It is virtually impossible to prove in each instance of sex. We can only say that the barmen deliberately spiked the drinks of thousands of women in order to collectively improve their opportunities for sex by instilling a fear of not having sex with barmen into the minds of women, as well as a false sense of 'normal' and 'perverted' sexual attraction.
Now are the barmen rapists? I would say obviously they are, and they would be treated as such under most legal rape definitions in most countries, regardless of feminist 're-definitions'.
And you can be sure that every feminist on Earth would not hesitate to call them rapists and demand their imprisonment.
Especially if their lives depended upon it.