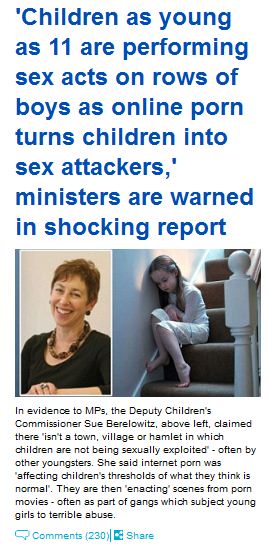 The Daily Mail and its sexual trade union allies have been turning up the volume in their shameful manipulation of child abuse in order to have pornography blocked or banned.  Notice how these moral panic stories always have pictures of innocent 6 year old kids to illustrate them, when we all know that the harridans are screaming for legislation over teenage girls and their out of control nubile bodies. Notice on the right hand side of the Daily Mail homepage, the 'Femail' section, just about every single article is related to sex in some way – whether it be who is cheating on who, or how to look young enough to be able to cheat on someone (or avoid the need for your husband to cheat on you).  It doesn't exactly take Sigmund Freud to work out that these artificial moral panics are examples themselves of the shameless sexual exploitation of children for personal gain.
The Neckbeard Chronicles has an excellent article on this : http://neckbeardchronicles.blogspot.co.uk/2012/06/lies-damned-lies-and-sexual-grievance.html
The Daily Mail, as well as various 'children's charities', are exploiting the recent case of a 12 year old boy who 'raped' a girl of nine after 'becoming hooked on internet porn'.
http://www.dailymail.co.uk/news/article-2152733/Schoolboy-12-raped-girl-watching-hardcore-internet-porn.html
So far as I can make out, this is another example of the abuse of language made permissible and codified into law by the sexual trade union.  I have seen no statement explicitly describing that the girl was not willing.  Again, as far as I can make out, the boy has simply been prosecuted for 'rape' because he was older than the girl (and male), despite being a child himself.  In which case, it's the shameless manipulation of children in order to further a political goal (the blocking of pornography) which clearly has a sexual self-interest for those who are making it (middle-aged frumps).