The world's first public anti-feminist gathering recently took place in Switzerland, and the organization behind it – 'Interessengemeinshaft Antifeminismus (IGAF)' – have their own highly professional looking website.  Resistance to feminism in Switzerland has moved beyond blogging and stepped into the real world.  That's something that should both hearten and shame the rest of us.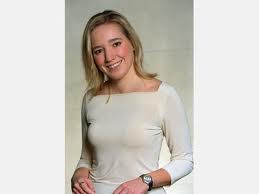 The homepage features a photo of German Family Minister Kristina Schröder (who recently caused fury in her country by criticising the pronouncements of a Femi-Nazi), with the following words underneath it (translation) :
"Oh yes – She too is an anti-feminist – so good looking is an anti-feminist woman!  No wonder the feminists don't like her!"
The IGAF now has my official seal of approval.  Please all men's rights bloggers link to their homepage. 
Meanwhile, the anti-immigration Swiss People's Party has sparked outrage amongst pc heads by displaying posters featuring naked young women bathing in Lake Geneva – contrasting them with images of fat, middle-aged, Muslim women wearing headscarves and bathing in dirtier waters 20 years into the future : http://www.croatiantimes.com/news/Around_the_World/2010-11-17/15244/Partys_Racist_Cheek_
A Swiss political party has sparked outrage over anti-immigration posters showing naked beauties romping in Lake Zurich compared to a snap of middle-aged Muslim women bathing in filthy water.

One snap shows a rear view of four stunning white women hand in hand on the edge of the lake, marked Lake Zurich 2010.

The second picture is supposed to the the same scene in 2030 showing what will happen to the country if immigration is left unchecked.

A group of overweight, headscarf-wearing women bath fully clothed while puffing on cigarettes in black, dirty water.

Leaders of the right-wing Swiss People's Party have refused to apologise for the stunt or withdraw the poster.

Spokesman Jean-Pierre Gallati said: "I don't know what all the fuss is about. Voters can decide. I think those who criticise it do not know what they are talking about."