If having nearly 1 million American men under threat of indefinite detention isn't enough to satisfy feminists, some are now openly debating whether merely complimenting a woman in the street should earn you a place on the sex offenders register.  Of course, what these green eyed monsters made flesh can't handle is the sight of watching other, more attractive women, being complimented instead of them.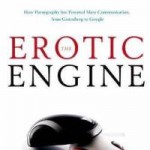 But before the femi-beasts drive you to hack your own penis off in shame at its inherent evil and through fear at the possible trouble it might land you in, perhaps you would do better to give it a pep talk.  You could do worse than start by reading it aloud passages from the following intriguing book : 'The Erotic Engine' : How Porn Powers Progress' written by a Mr Patchen Barss.  In the book (which I haven't yet read), Barss claims that porn has pretty much driven forward everything since the days of erotic cave paintings and crude fertility carvings to VHS and the Internet.
This all seems quite reasonable to me.   I've been reading a lot on Futurism and the Singularity lately. Although the notion of a looming technological Singularity seems to me questionable, it does encapsulate a far more undeniable truth – that we are on the brink of technological advances that will transform society and our apparent control over nature.  I say apparent, because whether or not the human being, or whatever post-human being that emerges in the next couple of centuries, is or can ever be separate from nature (a condition of being able to truly 'control nature' and certainly to 'control evolution') is a deep philosophical question.  John Gray, an English philosopher usually left out of these discussions, has penned by far and away the most persuasive case that the idea of the human animal ever taking control of its own evolution is inherently absurd.
But there is one element in this fascinating debate that Singularitarians, Transhumanists, and their sceptics such as Gray, can often all agree upon.  And this is that the Singularity (and astonishing future technological progress in general) will likely be driven by basic needs and desires that we have had in common with other primates since we shared an ancestor with the chimpanzee.  In particular, fucking and fighting.
There is a plausible case to be made that if the Singularity does indeed take place, it is likely to occur in some top secret Pentagon, or perhaps Chinese, military research facility. 
And that should be a prospect enough to chill anybody.
But there is a happier alternative.  That our desire for sex, in particular the relatively simple male need for visual and tactile satisfaction of his sexual needs, is what gives rise to the Singularity, or at least A.I. and related technologies.  We're already seeing a glimpse of this in the progress towards humanoid robots that you would want to interact with, as well as in the field of telepresence (of which teledildonics is the sexual form -see the RealTouch).
As the saying goes – 'Make Love, Not War'. 
It's also another reason, the ultimate reason, to oppose the sexual trade union's war against male sexuality.  The future of humanity, or at least the speed and moral outcome of technological progress, could well depend upon it.
The Future is Now (yiippeee!) : Breast Augmentation to Lead Stem Cell Revolution
Stem Cell therapy promises to be a medicinal 'magic bullet' for just about…everything.  From restoring sight in blind people, to replacing cancerous or worn out organs with healthy new ones that have been grown to order.
And it appears that the evil male objectification of female boobies might enable it all to happen, or at least to get there a lot faster :
It makes sense to apply Cytori's technology to enhance breasts instead of, say, repair urinary sphincters as a strategic way to move the patented technology out of rats and into people as soon as possible. Hearts, kidneys, and even sphincters have to work in order for us to survive. But we can live just fine without breast tissue, and, outside of feeding offspring, breasts don't have to do much. The fact is, the scientific and regulatory hurdles to getting Cytori's cells into clinical use will be easier to clear for breasts than for other tissue: Breasts simply aren't as necessary as other organs, so the bar for proving to regulators that the technology works will be lower.

It's also a booming market. In 2009, women forked over $964 million to plastic surgeons for breast augmentation, which edges out nose jobs as the most commonly performed plastic surgery in the US.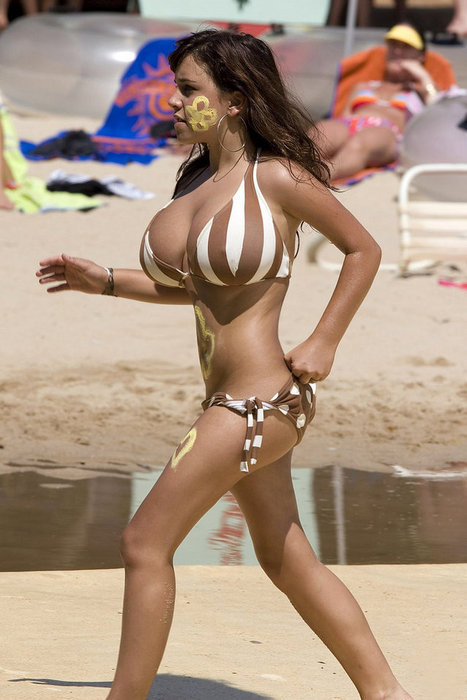 Of course, sex doesn't just drive technology, as we have seen with the contraceptive pill, technology drives sex – or at least the rules and ethics that accompany it.  This week it was announced that a contraceptive cream that carries no apparent side-effects will soon be on the market and which will effectively replace the pill.  What possible social effects might this have?  And in the coming years there will be many such developments, far greater than this. 
Highwayman posted the following typically intelligent observation of what a possible consequence might be :
I remember reading some articles about The Pill that stated that usage of the pill had a tendency to alter women's sexual preferences in men. If this is proven to be true I wonder if this might be a factor in our current high divorce rates (women make choices in men while their preferences are altered by the pill…then when they eventually stop using the pill and return to their normal preferences they loose interest in their mates). If this new cream were to not have this alleged side-effect then I wonder if it would mean more stable long term relationships (for those that prefer to pursue them).
Dr Helen Fisher on 'The New Mogonomy : Forward to the Past'
The good doctor comes out with far more feminist nonsense than she customarily does here.  Nonetheless, anything that Helen Fisher writes about on sex is always worth reading, and her piece neatly rounds off the theme of this post.
Marriage has changed more in the past 100 years than it has in the past 10,000, and it could change more in the next 20 years than in the last 100. We are rapidly shedding traditions that emerged with the Agricultural Revolution and returning to patterns of sex, romance, and attachment that evolved on the grasslands of Africa millions of years ago.

Let's look at virginity at marriage, arranged marriages, the concept that men should be the sole family breadwinners, the credo that a woman's place is in the home, the double standard for adultery, and the concepts of "honor thy husband" and "til death do us part." These beliefs are vanishing. Instead, children are expressing their sexuality. "Hooking up" (the new term for a one-night stand) is becoming commonplace, along with living together, bearing children out of wedlock, women-headed households, interracial marriages, homosexual weddings, commuter marriages between individuals who live apart, childless marriages, betrothals between older women and younger men, and small families.

Our concept of infidelity is changing. Some married couples agree to have brief sexual encounters when they travel separately; others sustain long-term adulterous relationships with the approval of a spouse. Even our concept of divorce is shifting. Divorce used to be considered a sign of failure; today it is often deemed the first step toward true happiness.

These trends aren't new. Anthropologists have many clues to life among our forebears; the dead do speak. A million years ago, children were most likely experimenting with sex and love by age six. Teens lived together, in relationships known as "trial marriages." Men and women chose their partners for themselves. Many were unfaithful—a propensity common in all 42 extant cultures I have examined. When our forebears found themselves in an unhappy partnership, these ancients walked out. A million years ago, anthropologists suspect, most men and women had two or three long-term partners across their lifetimes. All these primordial habits are returning….