What it feels like for a mother to see her little girl turn into a woman :
The other evening, I walked in on my 15-year-old daughter as she lay soaking in the bath. Somehow, I held onto the gasp I wanted to emit at the sight of her: that beautiful young body, with its impossibly pert breasts and taut midriff, surely belonged to a woman and not my little girl. "Darling, I'm so sorry," I said quickly, making to hurry out of the bathroom. "I'll leave you in peace." For the first time since she was born, seeing my child naked had left me feeling embarrassed, awkward and, oh dear, rather jealous.

With her incredible figure, long and naturally golden hair, and sculptured features, it was plain to see that my eldest daughter's beauty eclipsed my own. I always knew that three pregnancies, and the simple passing of time, had had an impact on my own looks and shape. Now, as I compared myself to my woman-child, it struck me just how much. "It's fine, Mum," my daughter laughed, oblivious to the depressing epiphany she'd just provoked. "Stay and chat."

Only I couldn't. I needed to go away and process how I felt; to shake the green-eyed monster hanging off my back, before my darling girl picked up on how I was feeling. I'd have been mortified if I'd inadvertently ended up making her feel bad, too, so I made my excuses and left — and promptly told my husband that it was about time we fixed a lock on the bathroom door.
Yet increasingly, any man who even takes a second glance at a 17 year old girl, let alone that beautiful 15 year old who inspires such jealousy in her own mother, is the worst pervert imaginable, a nonce, a sub-human paedophile, to be locked away to be beaten, spat upon, and raped for the rest of his life. And some of you think this isn't men's rights. And some of you think the only thing that matters is proving that as many female monsters as men break statutory rape laws that were created by ugly, sexually jealous, middle-aged feminists in order to protect their own selfish sexual interests (if you don't believe me, just read the above one more time, eh, and consider that women like this have criminalized millions of men as 'perverts' for clicking on a fucking cartoon picture of a female who MIGHT look as though depicting a girl of 17!!!!).
Meanwhile, the Daily Express, seeking to win away the crucial female 35+ year old readership from the equally odious, deluded, and paedohysteric Daily Mail told it's target audience exactly what it wanted to hear :
50 and Fantastic : Rise of the Quintastics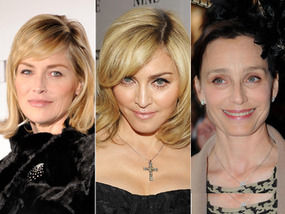 The major change taking place is in our attitude to ageing. "In our generation all the messages about women's validity after 50 have completely changed," points out Quilliam. "We are now free to do what and say what we want when we want; 50 is no longer the downturn that marks the end of a useful life. Now women work, the benchmark for the end of youthfulness is retirement. These days you can make love when you want to, go out when you like, learn a new skill or enjoy yourself how you please."
To which I'm reminded of a brilliant photo signature I spotted beneath the posts of a forum member at menarebetterthanwomen.com (the girls are the two beautiful 16 y.o. singers Selena Gomez and Demi Lovato).