If you want to know the secret of gaining massive upvotes at reddit mensrights there are three things you can do.  Firstly, be a woman, particularly a feminist asking 'can't we all just get along?'. Secondly, post a link about boys being sexually abused.  Thirdly, link to an image that requires an attention span of less than 5 seconds in order for the average redditor to decide to upvote and move on to the next link.
Last night one of the top posts on r/mensrights managed to achieve at least two of those criteria.  It was a link to an image of a poster on a Toronto subway train proclaiming that '1 in 6 boys and men experience sexual abuse', together with links to sites where you can donate money or pay for the services of a woman who will tell you just how fucked up you are.  According to the submitter of the link, and the 200+ men's rights supporters who upvoted it, this was 'a step in the right direction'.
http://www.reddit.com/r/MensRights/comments/14qlje/seen_on_a_toronto_streetcar_a_step_in_the_right/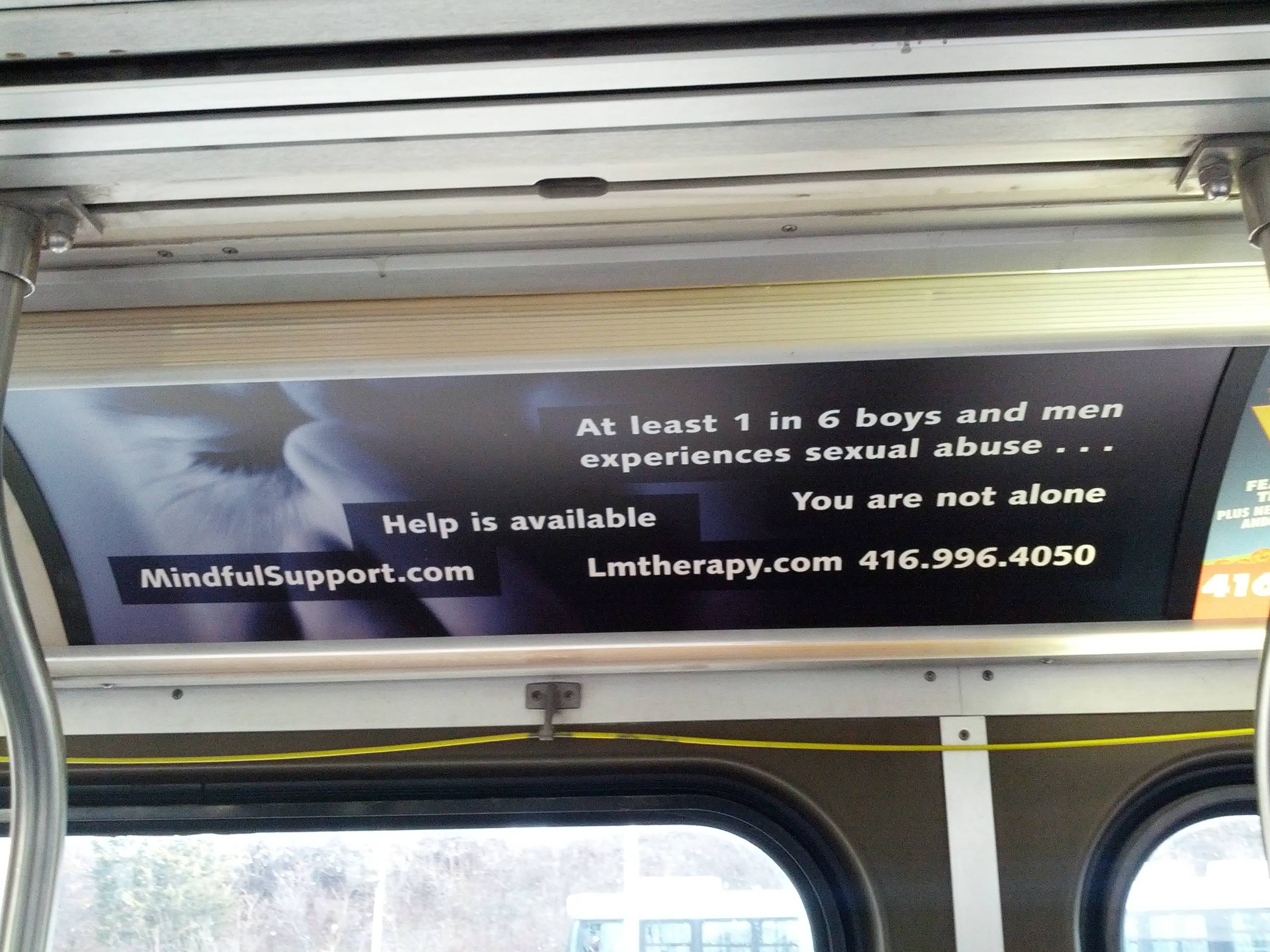 The poster links to MindfulSupport.com, a site that gives the impression of being run by a collection of new age vegans.  According to the site, the first step of recovery from child sexual abuse is 'denial', that lovely feminist word that we hate so much when applied in the context of rape culture.
The other link on the poster leads to Lmtherapy.com – a site promoting the services of the psychotherapist Lynne MacDonell.  One of her pages is headed 'Advocacy – A Social Epidemic' – in which she appears to proudly liken the spread of sex abuse hysteria to that of a social epidemic that becomes uncontrollable upon reaching a tipping point (citing pop science author Malcom Gladwell).  She also proudly notes of 200 male child sexual abuse victims appearing on the Oprah Winfrey show as an apparent validation of her work.
Both sites appear to be sponsored or funded in some way by the Canadian or local (Ontarian) government.
Where does this patently ridiculous '1 in 6' statistic come from?  The men's Rights Supporters at Reddit instinctively clicking upvote on the link clearly didn't know.  No information is giving at MindfulSupport.com  However, Googling '1 in 6' brings you to the following information site : http://1in6.org/the-1-in-6-statistic/
Researchers have found that 1 in 6 men have experienced abusive sexual experiences before age 18. And this is probably a low estimate, since it doesn't include noncontact experiences, which can also have lasting negative effects.

If you've had such an experience, or think you might have, you are not alone.

If you wonder whether such an experience may be connected to some difficulties or challenges in your life now, you are not alone.

Whoever you are, maybe you're thinking something like, "1 in 6?! Come on, how can that be?" or even "That can't be true!" Again, if so, you're not alone. Those are common responses to this statistic, which many people find hard to believe – including men who've had such experiences themselves.
The page then goes on to briefly define sexual abuse. Although it begins with 'unwanted sexual contact' it contradicts itself almost immediately by declaring that any sex experienced by an under 18 year old with a significantly older person is sexual abuse.  Note that this would be a legal definition of abuse only in around half of the states of the USA, and almost nowhere else in the entire world (save for countries which still have a homosexual age of consent set at 18).
The sites then lists a handful of studies conducted in the USA that apparently support their statistics.  The figures quoted for each study range from 14% to 18% of boys being sexually abused.  Unless my maths is faulty, only one of the studies actually says 1 in 6 boys were found to be sexually abused.
Note that all of these studies were conducted in the USA, not Canada.  Thus the statistic is not even relevant for Canada, both for the reason of possible differences in the rates of sexual abuse in different nations, as well as the point noted above – the age of consent is generally 16 in Canada.  One presumes that a significant numbers of these 'abused' boys in those studies will have been 16 and 17 year olds engaging in willing sex with older partners (probably homosexual sex for the greater part).  Something that, in itself, is illegal neither in Canada nor anywhere in Europe (save for Muslim Turkey).
Thus the posters are making misleading claims and probably breaking false advertising laws.
I do not have time to go through each study in turn, but one deserves a brief closer look to illustrate the general junk science nature and feminist agenda of them all.
Note that all of these studies appear to deliberately avoid filtering out possible (actually near certain) correlation between child sexual abuse 'harm' and economic and social background, as well as the taboo of the sexual act itself, and assume that if teenagers engaging in sex with older partners are more likely to suffer 'harm' later in life then this proves causation.  Even though, given that sex with older partners is subject to a social and legal taboo, this is no more surprising than learning that teenagers who break the law or smoke cannabis have less success in later life than their law abiding peers.  The studies also appear not to seperate the effects of real unwanted abuse and abuse under feminist legal definitions (such as willing sex defined as abuse because of the age gap). Note also that in the study examined below, the definition of later harm in life includes 'problems with marriage and the family'. Hmmm..  By such a definition, feminism and its obvious influence on the divorce rate should automatically be considered as evil and as destructive as child sexual abuse.
The fourth study listed was of a 1996 study of male university students in the Boston area reported that 18% of men were sexually abused before the age of 16.
Details of the study can be found here : http://www.jimhopper.com/cycle/
Now 18% of men sexually abused before the age of 16 would be truly a shocking thing.  Let's look at this study a little more closely. The following is the abstract  :
A sample of 595 men were administered self-report assessments of childhood sexual and physical abuse, perpetration history, gender rigidity and emotional constriction. Including noncontact forms of sexual abuse, 11% of the men reported sexual abuse alone, 17% reported physical abuse alone, and 17% reported sexual and physical abuse. Of the 257 men in the sample who reported some form of childhood abuse, 38% reported some form of perpetration themselves, either sexual or physical; of the 126 perpetrators, 70% reported having been abused in childhood. Thus, most perpetrators were abused but most abused men did not perpetrate. Both sexually and physically abused men who perpetrated manifested significantly more gender rigidity and emotional constriction than abused nonperpetrators. Men who reported abuse but did not perpetrate demonstrated significantly less gender rigidity, less homophobia and less emotional constriction than nonabused men.
So the figure of 1 in 6 is arrived at through including noncontact forms of sexual abuse.  Now what noncontact sexual abuse could entail I have little idea.  Maybe being flashed at in a park by a lonely old perv?  Maybe being leered at by a homosexual on the beach when you were 15?  Watching a sexy MTV video featuring scantily clad dancing women when you were 13?  I don't know.  But I do know that none of these things would lead to any significant lasting harm to anyone other than an adult already infantalised and damaged by the moronic culture to which he belongs.
Straight from a University of Toronto's Women's Studies' text book, the paper goes on to describe that masculinity and gender norms, together with sexual abuse, explains why men are such evil violent bastards :
 Faced with such an intense conflict between the emotional legacy of abuse and the emotionally constricting dictates of their gender socialization, male victims must find some pathway to resolution. One pathway entails the rigid adherence to masculine gender norms, a resolution which requires the forceful suppression and repression of abuse-related emotions (Lisak, 1995). Such a rigid conformity to gender norms may result in an accentuated constriction of emotional experience that is particularly focused on "vulnerable" emotions — the helplessness, shame and powerlessness associated with the abuse experience (Bolton, Morris, & MacEachern, 1989; Lisak, 1994a, 1995). Thus, the male abuse victim who adopts this resolution to the conflict would manifest an intolerance of his own distressful emotions.

Simultaneously, such a rigid gender adaptation would likely lead to an accentuated reliance on anger, the emotion which is most sanctioned by male gender norms (Mosher & Tompkins, 1988). Indeed, these authors, among others, have argued that men who rigidly adhere to gender norms for emotional expression are likely to convert a variety of emotional states, such as fear and helplessness, into anger. Thus, gender rigidity increases the likelihood that abuse-generated emotions will be suppressed and converted into anger, a dynamic that is likely to increase the propensity for aggressive action.

Such gender rigidity, with its resultant constriction in emotional experience, is also likely to interfere with the individual's capacity to constructively integrate his traumatic experiences. As described by Horowitz (1986) and Roth and Cohen (1986), such an integration typically requires periods of avoidance of traumatic information and affect, as well as periods of approach. The gender-rigid, emotionally constricted individual is less likely to be able to tolerate approaching the negative emotional states evoked by trauma, and more likely to avoid them, either by using psychological defenses, or by converting them to aggressive action.
A step in the right direction?
http://theantifeminist.com/is-the-forced-labelling-of-consenting-17-year-old-boys-as-victims-a-form-of-child-abuse/
http://theantifeminist.com/why-mras-fail-men-feminist-sex-law-hysteria/
http://www.angryharry.com/reTeaAbuse.htm
http://www.huffingtonpost.co.uk/brendan-oneill/jimmy-savile-child-abuse_b_2017326.html
http://www.angryharry.com/es-Curse-of-the-NSPCC.htm
http://theantifeminist.com/category/the-nspcc/
*Note that I do not mean to denigrate the real victims of child sexual abuse, and the gender of the abuse victim should rightly be seen as irrelevant (except for the fact that boys mature later than girls, so any 'sex abuse' one would think would be more severe for boys than girls).
The fact is, the clumsy wholesale appropriation of the feminist child abuse industry by mRAs will help neither men nor boys. It is a falsehood to suggest that the 'abuse' of boys is treated less seriously than the abuse of girls – otherwise the 2000 year institution of the Catholic church would not have effectively been brought down by the public's obsession with the abuse of boys by priests.  What is the case is that female 'abusers' are treated less seriously than male 'abusers'.  And the answer for this is not to be found in creating our own version of the feminist child abuse industry and furthering paedohysteria that damages primarily men, boys, and society in general.  And when this appropriation of the feminist child abuse industry is undertaken by female 'mras' then it is truly disturbing.